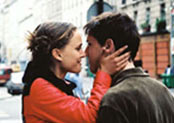 Paris is often referred to as the City of Love. The food, the fine wine, and the historic atmosphere all serve to act as an intoxicating aphrodisiac–the perfect recipe for a romantic relationship. The very title of "Paris, je t'taime," a recently released film featuring 18 vignettes–dare we call them love letters to Paris?– and helmed by well-known directors Alfonso Cuaron and Wes Craven, harken back to this very Parisian stereotype.
But this film is interested in more than just romantic relationships. It revels in all relationships: familial, spiritual, socio-economic, accidental, and internal.
With 18 vignettes, the film is a tad too long but is completely worth the 8-10 francs (or dollars) you'll spend at the box office (especially for those who have been to Paris and long to see the city in cinematic splendor). Sure, there are twists on the typical Parisian love story scattered throughout the ensemble–my favorite being a young man who is aided in keeping his fiancée by the ghost of Oscar Wilde in Pere-Lachaise–but there are truly profound stories here too.

In the appropriately titled "Place des Victoire," Juliette Binoche plays a women exhausted and devastated by the recent death of her young son only to be confronted and comforted by a dashing cowboy/God figure played by Willem Dafoe, who is watching over her child. When discovered by her husband out on the empty streets, he asks where she got the strength to wander. She answers simply, "God."
A young Muslim girl helps expand the mind of a young teen who spends his days cat-calling at women on the "Quais de Seine" with his friends. She wears the hijab–the head scarf typically worn by conservative Muslim women–as a way to bring her closer to her faith, she explains to the enchanted youth, and not as a garment of oppression or alienation. The segment, directed by "Bend It Like Beckham's" Gurinder Chadha is charming and delightfully non-preachy.
In "Porte de Choisy," a quirky segment illustrating one of the many culture clashes brought about by emigration, a caucasian hair care salesman attempts to sell beauty products at a salon catering to Asian women, only to be turned away. Wandering through the quarter, he ends up at a bowling alley seemingly run by Buddhist monks, or else a Buddhist monastery housing a bowling alley. Then again, nothing is quite what it seems in this vignette where identity–cultural and otherwise–is always in flux.

Strained familial relationships feature prominently in the film as well. Nick Nolte plays a seemingly estranged father who is regaining the trust of his daughter in order to care for his grandchild. Gena Rowlands and Ben Gazzara play a divorcing couple who are still deeply in love with each other but are resigned to the fact that they can no longer live with each other.
Yet, the most heartbreaking vignette doesn't involve a lost love in the typical sense. The love of a mother is lost due to economic hardship, as she must leave her child early in the morning at a state-run day care, travel for hours only to get to a job where she cares for another women's child until late into the night. Her sorrow is felt as she sings the same song she sings to her own child, but with a profound sadness of heart.
Saving the best for last, Alexander Payne's "14th arrondissement," less than 15 minutes of screen time, is more inspirational and life-affirming than any film I have seen in recent memory. Margo Martindale, a wonderful character actress currently starring as the neighbor on FX's "The Riches," is Carol, a postal worker from Denver who has been saving up for two years to come visit Paris. Armed with her fanny-pack and horrifically accented French, she wanders the city on her own, saddened that she has no one with which to share the city of love. But, in the end Carol learns what it means to be happy with one's self and to be truly alive.
So, if you are tired of this summer's blockbuster movies and are looking for
la difference
, fall in love with this "Paris."