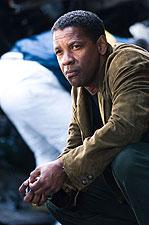 Last fall, researcher George Barna–the Gallup of the Christian scene–found that Denzel Washington is better known and better loved than any living American religious figure. Lately, it seems as if Washington is running up the score.
Denzel got a faith bump this fall, as Zondervan Publishing debuted the first (New Testament) installment of "The Bible Experience," a much-anticipated audio version of the Good Book. Though his role–Denzel and wife Pauletta read the Song of Solomon–won't appear until later this year when the Old Testament is released, Zondervan put Washington front and center in their publicity push.
Then, in interviews for the late December premiere of "Déjà Vu," Washington mixed hints about his faith with some plain talk about his deep reading in various religions. "I've gone through the eastern philosophies, Christianity, Buddhism, Swamis, and back to Christianity and Islam," he told Britain's Guardian last month. "Just searching. 'Siddhartha,' by Herman Hesse, is my favourite book, because he was walking the earth, praying, searching. I kind of had that vibe and curiosity."
To top it off, Washington is the January cover boy for the inspirational magazine Guideposts, where he touts his recently published book on the value of mentors.
Barna's survey was one in a series seemingly aimed at exposing the decline of Christianity in the American mainstream. But with standard bearers like Denzel, does Barna really have cause to worry?