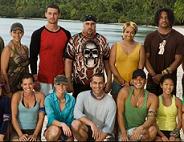 "Blacks to the right. Whites–you go over there. Asians, step to the left. Latinos, stay where you are. Remember to stay within your groups. We're going to drop you off in the middle of nowhere, with limited supplies, and want you to fight for your lives."
Sounds like a sadistic case study in Social Darwinism, no? Well it might be, depending on how you look at it, but it's also the format for the new season of CBS's "Survivor." In what's being called a "social experiment," this season's teams, called "tribes" on the show, are based solely on ethnicity–whites vs. blacks vs. Asians vs. Latinos.


In an interview
with The New York Times, series producer Mark Burnett acknowledges that the new setup is "going to be controversial," adding, "I'm not an idiot." Burnett also says that the idea actually came from criticism about the show's lack of diversity. He says approximately 80 percent of the show's applicants are white. For this season's crop,
host Jeff Probst says
blacks, Asians and Latinos were actively recruited to participate.
This isn't the first time Burnett, who is also the producer of Donald Trump's "The Apprentice," wanted to pit ethnic groups against each other. Last year, Burnett tried to do a race-war edition of the hit business competition show, after "The Donald" suggested it during an interview. However, NBC heads–who obviously have a bit more sensitivity than those at CBS–scrapped that idea.
Although many are sure to find the show's new format in bad taste, as I do, others will undoubtedly be curious as to how the competition is played out. Will fans of the show start rooting for tribes and contestants on the basis of their skin tone? And, if say, a Latino decides to root for the white tribe, will he or she be looked at as a traitor by other Latino fans?
In the end, the winner isn't a team–it's an individual (who wins $1 million)–but this format can only bring out the worst in America's racial stereotypes and prejudices, conscious and subconscious. If a black person wins, will people say it was a set-up designed to finally let a minority win? If an Asian wins, will people say it's because he or she was way smarter then everyone else and therefore, at an advantage?
As in all competitions, there are winners and losers. How "Survivor" presents each of them will make or break the show, and, perhaps, destroy any improvement in race relations this country has achieved during the past 60 years. Well, maybe our race relations are safe. But the show's plan still doesn't seem like a good idea.
The new season begins September 14th. Will you be watching?