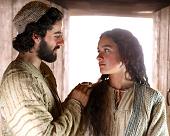 All Hollywood wants for Christmas is another "Passion"-sized blockbuster, without the Mel-sized controversy. This year's hopes are placed on a chronology of Christ's birth and toddlerhood titled "The Nativity Story," due for December release, and Time Warner's New Line Cinema has taken care to wrap the flick in just the right ribbons and bows to appeal to everyone and offend no one.
The "Nativity" script is by Mike Rich, both a Christian and a proven Tinseltown insider (his "Finding Forrester" made $53 million in 2000, which he followed with the uplifting and profitable "The Rookie"). Rich's script was vetted by historians, theologians, and ecumenical experts, allowing New Line to hew to a portrait of Christ's birth as "history-defining" while scoring the endorsement of Billy Graham's daughter, Bible scholar Anne Graham Lotz. The top biller in the painstakingly uncontroversial cast is Keisha Castle-Hughes, the child star of "Whale Rider," who plays Mary, the mother of God.
Indeed, the only hint of edginess attached to the movie is its director, Catherine Hardwicke, whose best known previous film is "Thirteen," an almost unwatchably grim, if sadly accurate, depiction of teen life in Los Angeles at the beginning of the 21st century. Hardwicke has a defense for the drug use and sex in her breakthrough film, saying "There was something going on that I wanted to blast out for discussion," and some youth pastors, by a hair, saw the point. Still, if conservative Christians are going to make this movie a success, it's Hardwicke they'll have to get past.
It may be better for New Line if they don't. To judge from the trailer, the movie is a basic sandswept epic full of donkeys, drumbeats, and nonbiblical scenes added for drama. For all his church-basement screenings, it was controversy, not corporate calculation, that made Mel's movie compelling as a car wreck.