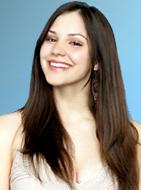 "American Idol" runner up Katherine McPhee may have thought the controversy surrounding her appearance in the final two instead of hugely popular rocker Chris Daughtry was going to be the most difficult moment of competing on the hit reality show. But that was before the rumors started swirling this past week about Katherine McPhee's possible involvement in Scientology.
Was there an agenda behind Priscilla Presley's meeting with McPhee at Graceland? Was TomKat possibly responsible for the alleged irregular voting the week Chris Daughtry, the previous "Idol" favorite, went home?
No. During an exclusive interview on "Larry King Live" last weekend, McPhee rather defensively answered some questions about the rumors by saying she dabbled in Scientology only because of an ex-boyfriend. McPhee began her explanation by saying she was "young and I'm still finding my way in the world." She went on to explain that because she started dating someone approximately a year ago who was involved with Scientology, she decided to enroll in a couple of classes (she added vaguely that she did "other things" while experimenting with the religion as well)–only to later decide she no longer wanted to be affiliated with Scientology.
I guess that means the only thing scarier than a critique from Simon Cowell is a "purification rundown" –a common ritual among other celeb Scientologists.