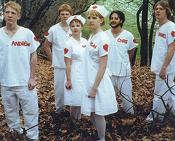 Alvin the Chipmunk; Geddy Lee of Rush; Polyphonic Spree; The Violent Femmes' Gordon Gano… Daniel Smith, the leader of the indie-gospel band Danielson Famile (sic), has been compared to any number of musical masters. The Famile's new album, "Ships," shows both why critics reach for familiar anchors to try to make sense of Smith's music, and why all comparisons are useless. The album, which The Philadelphia Inquirer saluted as "difficult but compelling," is a clattering, upbeat and nearly indechiperable collection, inspired by a love of Jesus.
The Danielson Famile grew from a real set of Smith brothers and sisters raised by a Pentecostal father in rural New Jersey (and you thought "indie-gospel" was an oxymoron). Though they don't witness on stage, group members do commonly wear nurse and doctor togs (to symbolize the healing of their music) or perform from inside a papier-mache tree (bearing the good fruit), and Smith unabashedly proclaims their faith in interviews. First recorded by the geniuses at Tooth & Nail, the decidedly non-Nashville Christian label, Danielson has become a cult favorite, providing songs for the recent indie film "Thumbsucker" and becoming the subject of a documentary film which showed recently at the South By Southwest festival.
One more sign that the Christian musical ghetto is crumbling? Well, maybe: Though Danielson is accepted within Christian circles, they are too off-kilter and oblique in their lyrics to set off alarm bells with secular audiences. All the same, their faith has operated, says Smith, "as a wonderful monkey wrench." Isn't that precisely what Christ intended? Click here and scroll down to hear some of the new CD.