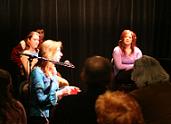 I had the fortune to attend the stage debut in Burlington, VT, last weekend of "A Bad Boy Can Be Good for a Girl" (Wendy Lamb/Random House), based on Tanya Lee Stone's novel of the same name. The story–about three high school girls who all have the misfortune (or is it fortune?) to date and get their hearts broken by the same "bad boy"–was performed with humor, style, and grace by four local teen actors, and I left the show thinking this novel-turned-play is the next "Vagina Monologues," though this one's for the teen crowd.
The setup was simple: Three stools–Josie, "The Freshman"; Nicolette, "The Girl Who Gets Around"; and Aviva, "The Girl Everybody Likes"–sat on stools (or used them as props) and delivered a series of monologues, while the resident "Bad Boy" lurked silently in the background, making faces and looking over their shoulders, as they debated, pined, and agonized over whether or not to succumb to his charms and give him what he really wanted–sex.
For all the many recently released young adult novels that take on the topic of teens and sex ("Rainbow Party" by Paul Ruditis, "Sandpiper" by Ellen Wittlinger to name two)-and which often include graphic descriptions of sexual encounters–Stone's novel, told entirely in verse, is laugh-out-loud funny, emotionally engaging, and sensitive, as it portrays the girls' feelings as the "Bad Boy" gambles with their hearts and depicts the girls sexual experiences–of which there are many.
A highlight from Josie in "Testing the Waters": "We're totally alone, and I'm not sure how much longer I'm going to be able to hold out on him. According to him, he's been unbelievably ultra patient." And from Aviva in "Short Week": "I'm hyped up from all this attention. It's not just all the attention he's paying me, either. It's like suddenly I'm not just a Criss-Crosser. Suddenly I'm major Mainstream." These are vivid examples of the show's many reflections on how a relationship, sex, and being "picked" by a certain boy can change a girl's social status, wreak havoc on her sense of self, make her feel at one moment thrilled and at another crushed, and tempt her into decisions she will later regret.
The best part of all? Despite the heartbreak, the decisions to have sex with the wrong boy (one girl holds out and gets dumped as a result–you'll have to read to find out which one resists), all three girls find astonishing empowerment, community, and a much-needed space to talk openly and honestly about being a girl who's thinking about having sex–or not–in high school. I imagine this book will be widely read (perhaps clandestinely so) by teen girls everywhere, but most of all, I hope to see stage performances of "A Bad Boy Can Be Good For A Girl" coming soon to high schools all over, because it's the perfect and much-needed conversation starter for discussing sex, for adults and teens alike.