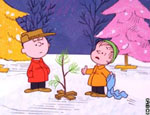 This Jew's second-favorite Christmas tradition is happening tonight: the Charlie Brown special. (My #1 favorite is Chinese food and a rented movie on Christmas eve.) It's not an exaggeration to say that as a kid, the most meaningful lesson I got on the meaning of this holiday was, year after year, from Charlie Brown's dejection at the commercialism of Christmas, and Linus's moment in the (literal) spotlight, when he reminds his friends–who are bickering over the details of their Christmas pageant–why they mark this special day in the first place.
Several years ago, as one of the editors here at Beliefnet able to work on Christmas, I was assigned the task of writing copy on Christmas morning for the Christianity page. It was a daunting task, to say the least; I needed to sum up in about one sentence the essence of this major holiday. I had years of religion-writing experience, a master's degree in religion, a year of work at Beliefnet under my belt, and, flummoxed by what to write, I turned–you guessed it–to Linus. I used (with a little gender updating) the simple scriptural words he'd used to silence his friends and refocus them on the meaning of Christmas:
… And suddenly, there was with the angel a multitude of the heavenly host praising God, and saying, 'Glory to God in the Highest, and on Earth peace, and good will toward humankind.'
What more could I add? Thank you, Linus.