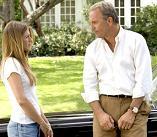 I went 0-for-2 at the box office this week, first sitting through the dreadful "Cheaper by the Dozen 2" and then catching the star-filled, meant-to-be-extremely-clever romantic comedy "Rumor Has It." This movie is about a 30-something career woman, Sarah Huttinger ( Jennifer Aniston), who returns home with a potential fiancé, Jeff (Mark Ruffalo), to attend her sister's wedding in Pasadena. The supposedly hilarious twist to this formula is that Sarah–commitment-phobic and ambivalent about her life–discovers that her mother and grandmother were the inspiration for the popular 1960s book and movie, "The Graduate."
After learning that her grandmother and mother both slept with a mystery man named Beau Burroughs, and that her mother sneaked away a week before her wedding to be with Beau (all details found in the plot of "The Graduate"), Sarah is suddenly convinced that this news explains her present and past unhappiness with her family, her romantic relationships, her career, and anything else she can think of–all because she believes Beau may be her real father. Tracking down the playboy-turned-successful businessman, Sarah soon learns the truth about Beau's relationship with her mom, but not before she, too, falls under the spell of his charm and ruins her own relationship with Jeff.
The movie fails not just because the plot is convoluted and the jokes fall flat. The movie fails for the same reason many (though not all) romantic comedies fail these days. Today's romantic comedies are often not really comedies at all, but instead are sociological studies in the three-plus decades of fallout from the so-called sexual revolution of the '60s–when Hollywood began making movies like "Love Story" (if I am in love, do I really never have to say I am sorry?) and "The Graduate." During the turbulent '60s, romantic comedies switched from focusing on romance and love that precede sex and commitment to focusing on Baby Boomers treating marriage and commitment as concepts to be met with disdain or disbelief. Instead of Cary Grant or Rock Hudson pursuing Doris Day, we suddenly had Robert Redford and Barbara Streisand as mismtached lovers in "The Way We Were." Big difference, though not entirely a bad one, because who ever lived a life like Doris Day's anyway?
However,the result is that today's romantic comedies (think "Eternal Sunshine" or "Garden State" ) more often than not send the message that Gen Xers don't know what romance is, think permanent commitment is a myth, and don't believe that blood or marriage has anything to do with being a family. Why? Because our Baby Boomer parents who believed in stuff like the messages found in "Love Story" told us so.
Which brings me back to "Rumor." The one interesting thing about this movie is that Sarah does (finally… after 90 torturous minutes) figure out that yes, in fact, the things she believed about love, marriage, and commitment are all lies. Her grandmother's raucous '60s lifestyle wasn't actually that fulfilling. Her mother was not a desperate housewife who gave up the love of her life to marry Sarah's father. Momentary chemistry can be a poor substitute for lasting happiness. Oh, yeah, and the most important lesson Sarah learns is that she should stop whining and grow up. All points worthy to be found in a movie–unfortunately just not this movie. So "Rumor" could have been worth a watch, but it's not. Spread the word and let this "Rumor" die a quick death at the box office.