I miss my uncle the priest, especially throughout these past few years of adversity.
I look forward to the daily email sermons I receive from a Catholic priest I call 'Father Hope.' I used to be involved in a bible study with him. His spiritual wisdom is some of the best I have received. In particular, a Psalm he recently mentioned he routinely says.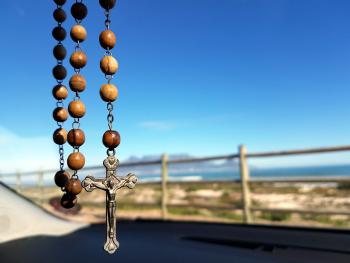 I discovered 'Father Hope' majored in journalism.
No wonder I listen intently to every word. I'm a devout Catholic but I've been known to be distracted by a sermon or two. It's not always easy to stay focused at church despite our best intentions. Father Hope's love of the literary enables him to weave personal stories seamlessly with the bible. It's not the average sermon. You rarely forget his words.
Even better, his daily sermons are short and sweet. Making them even more memorable. They pack a punch.
Father Hope is relatable. Even priests have struggles. It's not something we typically reflect on because they are usually there to hear and absorb our own worries. I like the fact he shares his own reflections and mysteries of faith. His own frustrations in life.
On this particular day, Father Hope says to remember the words of Psalm 90:15. He says he often repeats them himself. "Lord give me joy to balance my affliction."
I looked up Psalm 90 while writing this.
Father Hope's words are a translation of the literal. It's the same message. He just made it more easily digestible. A simple and easy reminder we all have struggles we balance against our joy.
Follow me on Instagram @colleenorme
Facebook @Colleen Orme National Columnist
#WomanResurrected
E-mail: Colleen.Sheehy.Orme@gmail.com
Photo on Pixabay