I sit on the bank of a river eagerly awaiting the arrival of my nephew's beautiful bride.
Somewhere over the Rainbow flows through the air as she makes her way down the grand staircase of her family home. It is a magical moment.
One where love makes itself known.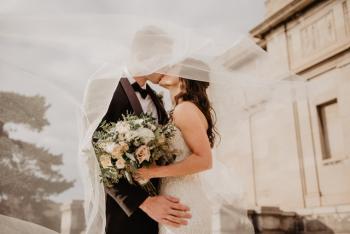 It is their very own beginning. My nephew and his bride. And we are all here to share it. An emotional day for sure, but made even more emotional by the man who will marry them.
They have asked my nephew's uncle, my brother to officiate.
My nephew, his bride, and my brother meet under a gorgeous and lovingly constructed wooden arch. It is a labor of sentimentality. A father who carefully deconstructed his daughter's childhood swingset, and rebuilt it to adorn her now grown dream.
This is just one of the many intentional and endearing touches warming this day.
Again, love is making itself known.
My brother has given great thought to words he wants to share with this beautiful couple. He references his own loving and enduring marriage and it is a strong one.
My brother once told me when he looks at his wife he still thinks she's as beautiful as the day he met her. There is no doubt love is the reason for their long-lasting and happy life together.
But then he shares a secret with the young couple.
My brother and sister-in-law aren't in their marriage alone.
It seems their love has a constant companion.
"Invite God into your marriage," says my brother.
My brother explains love alone is not responsible for the success of his marriage.
It is such profoundly sacred spiritual advice. The promise of in good times and in bad and in sickness and in health demand a companion. One stronger than any of us. And one strong enough to hold us together when necessary.
Yet too many couples leave God behind with the 'I do's."
When their everyday life demands a constant companion.
Especially on the days, love is making itself less known.
I'm contributing pieces on Family Today and Medium. Follow me on social below. #WomanResurrected
Follow me on Instagram @colleenorme
Facebook @Colleen Orme National Columnist
#WomanResurrected
E-mail: Colleen.Sheehy.Orme@gmail.com
(Photo courtesy of Emma Bauso on Pexels)