It's cold here in the Northeast and the wind is kicking it up a notch.
Needless to say, I might have grumbled a bit while walking my two labradors.
Hazel and Phyllis seemed oblivious to the cold and found it energizing. My two furry beasts as motivated and I was unmotivated by it. Despite this, I may have cut our walk a bit shorter than usual. After all, who doesn't hate the wind? And I still had to grab a quick lunch.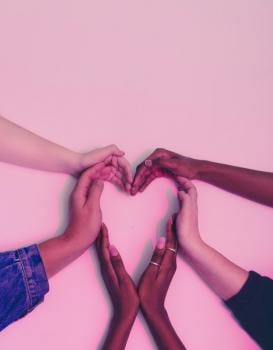 I walked across the street.
Inside the Potbelly Sandwich Shop sat a homeless man.
I looked at him with embarrassment. As if there were emotional transparency between us. Yet, he couldn't possibly know just minutes before I had cursed the momentary arctic freeze.
My earlier grumblings were squarely put into perspective.
I asked the people behind the counter if I could buy the man a sandwich? They told me he generally ate chili so I purchased him a bowl. As I left the restaurant, I saw them deliver it to his table.
It didn't seem as cold on the walk back to my place.
From my new perspective, I only had to endure it for a short time, not his long haul.
There is always someone in a situation worse than ours.
The problem is we can't always see them.
My uncle the priest once told me to look in my own backyard to do good.
I had spoken to him of grandiose visions of traveling into the city to help in soup kitchens.
"Colleen," he said. "Be charitable in your own community because you will be able to sustain it."
What did my uncle mean? Giving on a big scale or around the holidays is wonderful but it can be fleeting. But if you do it where you live it can be more accessible and plentiful. You're own spiritual playground. A kitchen you can show up to several times a month rather than every six months.
Of course, he didn't mean I shouldn't contribute around the holidays or in larger ways or in smaller ways to far away charities.
He was simply teaching me opportunities to live outside our own four walls present themselves every single day.
My world might be cold but my neighbors could be even colder.
And that I would find this type of generosity too effortless to miss.
I'm also contributing pieces on Family Today visit my Facebook Page below to read them.
Follow me on Instagram @colleenorme
Facebook @Colleen Orme National Columnist
#WomanResurrected
(Photo by ATC Comm Photo on Pexels)
Twitter @colleenorme
E-mail: Colleen.Sheehy.Orme@gmail.com