The answer to this question lies within just one individual…YOU.
No one can make this decision for you.
Though many will try.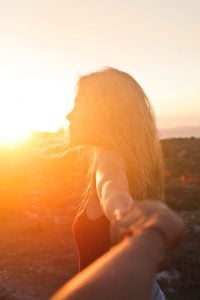 My closest family and friends urged me to leave for years. Of course, I knew they were right. I knew they were fighting for me. I knew they could see things objectively. I knew their love for me was greater than the present love I had for myself. I knew better.
Yet I stayed.
I continued to view love through the lens of the brokenhearted.
Kidding myself that somehow I could stay in a troubled union without becoming less of who I was.
Ultimately, I made the decision to leave.
A conclusion I am both happy and at peace with.
However, one thing I know for sure…I cannot make this decision for anyone else.
Sure, I have friends worth fighting for. In the same manner, some of my friends and family fought for me. Friends who I believe deserve better. Friends who are so good they deserve that same goodness from another.
Those who might be sacrificing a bit of their soul for the collective and supposed 'greater good.'
Of staying not just married but 'compromisingly' married.
An 'existence' mandated only by couplehood.
Is it easier?
Yes, in some ways it is. But in other ways, it is harder.
Yet, what I have learned is we can't make this decision for anyone. 
It is an intensely personal decision. Not unlike the choices we make to work outside the home or inside the home raising our children. Both have pluses and minuses. Both have pros and cons. And both are made from an intimate decision-making process.
One which often stems from our family of origin.
The same can be true of deciding to stay or to leave.
It is rooted in our family of origin.
What we witnessed as children.
A parent who stayed despite the situation. A parent who made the best of a bad situation. A parent who rationalized the situation. A parent who chose to leave. A parent who defied the odds of rebuilding their lives.
I left because I had a mom who boldly made that decision.
It was familiar to me. 
It was doable. 
But it's not for everyone.
Conversely, seeing my mom overcome great odds on her own could have kept me in an unhappy marriage. I knew exactly how difficult it would be. Marriage even an unhappy marriage was more comfortable. Far less scary.
Only you can decide what is the right choice for you.
Only you can listen to your trusted inner voice and trusted family/friend confidantes.
Only you can make the decision.
And neither will be easy.
I'm also contributing pieces on Family Today visit my Facebook Page below to read them.
Follow me on Instagram @colleenorme 
Facebook @Colleen Orme National Columnist
#WomanResurrected
(Photo by Element 5 Digital Courtesy of Keenan Constance on Pexels)
Twitter @colleenorme
E-mail: Colleen.Sheehy.Orme@gmail.com