Last year we discovered the magic of Godwinks meets the Hallmark Channel.
A delicious mixture of holidays, romance, and spirituality.
Even better?
These divine coincidences are based on true stories.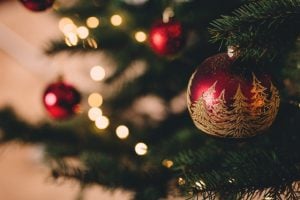 The type of tales that inspire hope, faith, and love.
Just what the holiday season ordered.
If you haven't yet heard the term Godwinks, it is "A coincidence that isn't coincidence, but is thought to be of divine origin."
God reminding us of His presence in our every day lives.
The movie A Godwink Christmas: Meant for Love is the undeniable love story of Alice and Jack. A union destined by the divine and joined together with a string of miraculous Godwinks.
It is pulled from the first of twelve of the Godwinks Book Series.
Authors and producers SQuire Rushnell and Louise DuArt are husband and wife. Their books and movies have inspired a movement and a Godwinks community spreading hope and faith.
One the world is evidently craving by the massive viewer response to last year's first Godwinks Hallmark Channel collaboration.
Kathie Lee Gifford fans will be thrilled as she stars in this movie alongside Cindy Busby and Benjamin Hollingsworth.
A Godwinks Christmas: Meant for Love premieres Sunday, November 17th, 9 p.m/8c.
https://www.hallmarkmoviesandmysteries.com/a-godwink-christmas-meant-for-love/about-a-godwink-christmas-meant-for-love
For more inspiring Godwink Christmas Stories here is the latest in the Godwink Series by SQuire Rushnell and Louise DuArt:
Godwink Christmas Stories: Discover the Most Wondrous Gifts of the Season
https://www.amazon.com/Godwink-Christmas-Stories-Discover-Wondrous/dp/1501199951/ref=asc_df_1501199951/?tag=hyprod-20&linkCode=df0&hvadid=312443114357&hvpos=1o1&hvnetw=g&hvrand=712953337596686082&hvpone=&hvptwo=&hvqmt=&hvdev=c&hvdvcmdl=&hvlocint=&hvlocphy=9012259&hvtargid=pla-562941304508&psc=1
I'm also contributing pieces on Family Today visit my Facebook Page below to read them.
Follow me on Instagram @colleenorme
Facebook @Colleen Orme National Columnist
#WomanResurrected
(Photo by Element 5 Digital Courtesy of Keenan Constance on Pexels)
Twitter @colleenorme
E-mail: Colleen.Sheehy.Orme@gmail.com