My youngest son and I were enjoying a meal out when he said, "You seem less stressed."
"Really?" I say back.
I can see the bewilderment in his face.
After all, I have the same problems.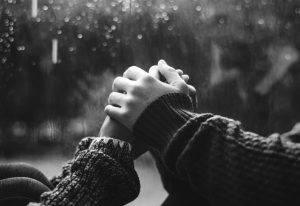 The divorce may be finalized but the remnants will linger for some time. I still have zero retirement, bad credit, and many more issues to resolve. And there certainly are times where the reality of not being able to meet any emergency expense or potentially never owning a home again, or avoiding the doctor because it's one more expense does hit me.
In short, the future is as uncertain as it was months ago.
The difference?
I'm not attached to another person who created these problems in my life.
I understand why my son is confused since he definitely understands many of the worries which remain.
"It's not the problems which ever bothered me," I say. "I can solve problems. It was stress, unpredictability, and chaos. Even worse, what it was doing to my children."
I am happy my son sees my joy returning.
But here's my point.
Stop thinking you can fix a relationship entirely by yourself.
I shudder when I am forced to write the number of years (eight) which I futilely wasted. Add a ridiculously long five-year divorce on top of that and I shake my head at my own self. It can happen easily. I tolerated five years of someone behaving badly before I gave up, then there were several separations and then ultimately I filed for divorce.
Bad relationships are bad for a reason.
They aren't being tended to by both parties.
The world is filled with joy but life will demand ups and downs.
There will always be problems.
Yet, ironically problems are not the problem because fortunately most can be solved.
I did ultimately, have someone who was causing problems in my life but I believe my inability to act sooner increased his bad behavior exponentially. At the very least, it increased the duration of my divorce struggle. I believe the individual I divorced would have still retaliated and not done the right thing regardless of when I left.
Because that comes from a core personality issue and lacking a sense of right and wrong while ending a relationship.
However, staying so long weakened me and it did create other problems.
For instance, his refusal to hire an attorney until coincidentally our youngest graduated high school. I waited so long to leave it coincided with four years of support for our youngest child. Something which never occurred to me but it most certainly did to him and he figured a way around it. To fight me for four years and cause unnecessary financial and emotional stress.
So obviously, other people can create problems in your life.
But is it possible to minimize the degree?
The real issue?
Are you exaggerating your own problems by trying to force something which is broken to work?
You CAN create some of your own problems.
Relationships being one of the biggest hotbeds.
You can't always have what you want.
You can love someone who will not have the ability to return the same degree of love.
This is the very FIRST problem.
Acknowledge and embrace it.
It's a signal to move on quickly…
Before it causes even more problems in your life.
Love isn't black and white.
But how much we complicate it is.
Follow me on Facebook @Colleen Orme National Columnist
(Photo Courtesy of Pexels)
Instagram @colleenorme
Twitter @colleenorme
E-mail: Colleen.Sheehy.Orme@gmail.com