I chatted with my friend who I call 'Oprah' today.
You have to earn a nickname like 'Oprah.'
It infers a commanding presence and uniting the girlhood.
It means inducing a frenzy, like "What are we gonna do tonight since 'Oprah' can't make it?" Or "What would 'Oprah' say?" Or "What would 'Oprah' tell us to do?" Or "'Oprah's' not gonna like this!"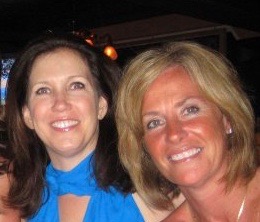 You get the idea.
'Oprah' and I have been friends since our early twenties. She's one of the great gifts of my marriage. The friend who didn't divorce me because technically once upon a time we met through my husband.
But by the grace of God and the good fortune of youth we were still individuals and had not yet been officially registered as couples, so we had the privilege back then of stand-alone friendships.
We got to be original girlfriends first and the girlfriends of our men second.
I remember our first encounter.
Ever so excited to meet the third girlfriend in a pack of fifteen men I bounded towards her.
Where there was once two there would now be three and I was certain we would be besties.
'Oprah' took note of my presence, there was a subtle hello and it was back to swiping her nails.
I was unphased.
It would take more than a preoccupation with polish to sway this girl's excitement.
There was one more of us and that was all I needed to know.
There's nothing like a girlfriend.
From that moment the memories ignited.
'Oprah' soon learned I was not to be ignored and I had simply been politely quiet during our first meeting. A smart strategy to play my cards close to the vest. After all, her swiping silence didn't quite match shall we say, my louder personality?
These past years 'Oprah' rallied me, she scolded me, she championed me…
And she waited for me.
Not unlike a few other incredible women who I now discern as 'blessings' not 'girlfriends.'
When she called me I monopolized the conversation as I often do these days. I am acutely aware as my circumstances have elongated they bring a selfish preoccupation.
We joked about my next phase of life.
And as all good 'blessings' do, she passed along some sage advice.
It seems if you upgrade on match.com and pay a few extra bucks you weed out a few frogs.
When we hung up I noticed a missed text from her.
"Meatloaf is on the radio. That's what reminded me to text you back."
It's funny since our twenties we have amassed a plethora of memories.
We have morphed from drinking Miller Lites to cosmopolitans, from dancing in dives to dancing in far away resorts, to bar packed St. Patrick Day's in Philly to quiet New Year's Eve's in Eagle's Mere. We whooped it up at one another's weddings and sat subtly mesmerized by the birth of one another's babies.
We were young my friend 'Oprah' and I.
We swapped lipstick, stories, and cigarettes.
And over time, we accumulated love.
Out of all those escapades, there is but one song which will make us both stop to remember it.
It was one of youth's many spawned nights on the Jersey Shore.
A club in Avalon when for some mystical reason time stood still and we had the presence to take it all in. The three of us girls surrounded by those fifteen great guys dancing our hearts out to none other than Meatloaf's…Paradise by the Dashboard Light.
And just like that – a girl you once had the luxury of growing up with, who spends her day's several states away, surrounds you like it was yesterday.
We got to be original girlfriends first and the girlfriends of our men second.
We swapped lipstick, stories, and cigarettes.
And over time, we accumulated love. 
In the proverbial words of Meatloaf…
"Ain't no doubt about it 
We were doubly blessed"
Follow me on Facebook @Colleen Orme National Columnist
Photo mine
on Twitter @colleenorme
on Pinterest @colleensheehyorme
E-mail: Colleen.Sheehy.Orme@gmail.com