My brother saves lives for a living.
I have never shared with anyone that I once questioned my own choice of career.
Can you blame me? I am engulfed (always the lover of puns) in a family of firefighters, cops, nurses, teachers and a priest.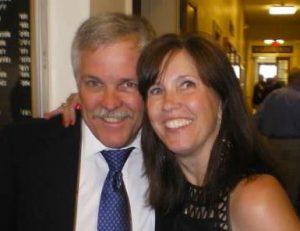 So let's just say this impassioned writer with a business degree felt a little misdirected in my twenties. Believe me, I wanted to be the brave and selfless public servant. I just didn't have it in me.
I would wager to say I did have the selfless thing down – somewhat easy to come by in my family of origin.
It was the bravery which had me stumped.
I was like chocolate, a hot gooey mess – or so the expression goes.
Not in the overall scheme of things…
Just in terms of life and death.
The rainbow and butterflies, the cup is half-full kinda girl could not face tragedy or sadness of any kind. I was absolutely unable to comprehend how my family could find the strength to deal with such things each and every day.
But they did and they do…continue to gracefully confront the severe contrast of this wondrous world's highs and lows.
Me, I just want to keep writing about love, butterflies, and rainbows.
Why do they do it?
The obvious answer is two-fold.
It is the intersection of making a profound difference while witnessing the miracles which perpetually unfold around us.
Eventually, in between the proud moments, you forget the risks which accompany such bravery.
And then, every so often, you are reminded when a slight burn makes its way outside the protective gear or a floor gives way while fighting a fire. And of course, when the occasional story makes its way home.
My brother likes to say he has angels.
A few short months ago, he reminds his wife of this as he stops for fuel while returning from a firefighters reunion in Florida.
My sister-in-law has a nagging feeling. It is something within their own family they jokingly refer to as 'mommy's radar.' She implores my brother to find rest for the evening despite it is only a bit past three in the afternoon.
They continue their back and forth.
Again, in the professional world of risking life daily you become so accustomed to it you must worry less or you would not function. Therefore, my sister-in-law has long learned to live the life of wife to a fireman. However, on this particular day, she can't quell her fears.
My brother inquires why the fuss as she generally does not worry about him?
She has no answer to that question but insists nonetheless.
He assures her not to worry and follows with 'You know I have angels."
In the next hour, my brother will fly off his motorcycle on I-95 while traveling through South Carolina.
It is a moment which brings the phone call that now leaves this writer unable to read the words I pound on these keys. The tears still overrun themselves while attempting an escape from my eyes.
Miraculously, my brother survives and is medivac-ed to a trauma center ICU.
I enter his room with one of his three boys relieved at the sight of his handsome face. There are several breathing tubes and oxygen which assist him while doctors and nurses continue to treat and monitor his critical injuries.
We exit only minutes later as my brother is now struggling for every breath.
We walk towards the waiting room and find our seats.
I am fairly certain I understand a part of what my nephew is feeling. No child is prepared to see their parent look vulnerable for the first time.
Add to that you have an age defying, Harley riding father who still has the ability to be the first guy in on a fire and it is a much harder fall from grace.
I search for words of comfort.
"It's hard to see your dad that way, isn't it?" I ask.
"Yes," he responds.
"Don't worry," I tell him. "Your father is going to be fine because he has a story to tell."
It is one of extreme faith.
It is about a man who stood witness and boldly proclaimed he has angels.
The kind of story that accompanies his professional brand of bravery.
The miraculous in the severe contrast of this wondrous world's highs and lows.
The type I was too fearful to live but was ultimately meant to write about.
What SQuire Rushnell calls a Godwink.
Photo (Mine)
Follow me on Facebook @Colleen Orme National Columnist on Twitter @colleenorme
on Pinterest @colleensheehyorme
E-mail: Colleen.Sheehy.Orme@gmail.com