I remember chatting with my friend during the final demise of my marriage.
She pondered whether there was really just 'one' person for each of us in life. 
I was horrified! Me, the idealistic writer. Of course, there is only 'one!' – – THE ONE!
After all, at thirteen my best friend and I had most assuredly figured this out! We were certain of it. We promised to live side by side and sip coffee while chatting over our white picket fences. The houses which were to be built as soon as we each found 'the one.'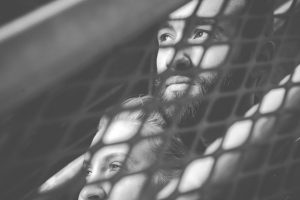 Now life had forced me into considering there may indeed be more than one.
A hard pill to swallow for a rainbow and butterflies kinda girl.
But if I digress from my Pollyanna ways and consider divorce is a fifty billion dollar industry…
A significant amount of people are  finding another 'one.'
No matter…I still went down fighting. Praying for more rain and therefore rainbows. I loved my husband. The man who once gave me butterflies. I wanted him to remain my 'one.' So much so I destroyed much of my own internal 'one.'
I remember years ago someone telling me there is always someone in your life you never get over.
The mystery of unrequited love.
Another testimony some people do in fact fall in love with more than one person. You can be with someone new while a little part of your heart never lets go of another.
It can't be helped.
The heart does not listen well.
Nor does it easily let go.
So where does this all leave the world of love? I believe what I have always believed. I have now just tweeked it a bit. Some human beings do in fact find 'the one' early in life and stay with just that one. Some muddle through a few to eventually find 'the one' and also remain with them for life.
And others have yet a different path. They may have found 'the one' and lost them. They may have found 'the one' and outgrown them. And more…
We were all meant to have different paths and love doesn't always follow directions well enough to keep up.
Furthermore, love takes two even if you believe you have found your 'one.'
Either way, what once horrified me I now accept.
I have let go of rainbows, butterflies and white picket fences.
After all, my thirteen-year-old self never ended up sipping coffee with my best friend. At least not over the symbolic wooden structure we once believed signified relationship utopia. I did; however, get close to it. I ended up being neighbors with most of her family.
An adjusted version of our original.
I'm realigning my vision of 'the one' as well.
I'm ready to find my NEW 'one.'
Because fences come in all shapes and sizes…
And the rainbows and butterflies still find them.
(Photo courtesy of Pexels)
Follow me on Facebook @Colleen Orme National Columnist on Twitter @colleenorme
on Pinterest @colleensheehyorme
E-mail: Colleen.Sheehy.Orme@gmail.com
www.colleensheehyorme.com