Every once in a while, someone asks me if writing about divorce keeps me stuck.
On the contrary, it is the one place I feel free.
Where he can't control me.
It's cathartic –  and when I hear from divorcing individuals who say they have found a safe haven it makes me happy. It was the safe haven I was searching for when I began to write about this forbidden topic.
I have missed a few columns this past week as my divorce leads towards a finalization. Or at least I can dream it's heading in that direction.
There are days in life we just have a difficult time getting it together – doing our best in everyday life.
When we are pregnant and dragging ourselves to work while exhausted and sick. When we have our babies and have to go back to work but our minds are still at home. When we lose a parent and the rest of society systematically moves forward while we sit suspended.
When we divorce and our bodies walk out into the world while our minds trail far behind.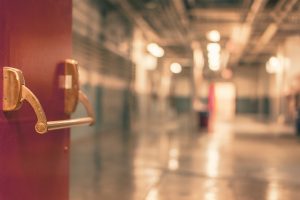 These are the times in life we want to shout for a hall pass.
A trip to the clinic to cut class.
A sneaky break we aren't allowed to take but crave because the hallway is far less scary than what lurks in the classroom.
The test we aren't prepared for or the homework we failed to do.
If only we had studied and not procrastinated. If we had just taken thirty minutes to complete that worksheet.
If only…
This sums up divorce. 
If only spouses didn't take their anger out in divorce – if only they didn't turn children and money into dangerous weapons – if only the legal system had a way to deal with emotional sabotage – if only it were illegal to be abusive in divorce.
We could get through the 'day to day' far better.
We wouldn't occupy space in one location while our mind takes up residence elsewhere.
We could be present for this beautiful thing called life.
And this great miraculous gift called children.
Like the occasional teacher who doesn't belong in school – there are adults who don't belong in parenthood.
When our marital problems began I grew frustrated with my husband. 
I would tell him "I have children to raise. They deserve my attention. Not a grown man who has chosen to not face life and his own problems to the point where he is absorbing all of my focus. I am a mother."
I would follow that by saying, "We don't have real problems so confront whatever is bothering you."
All these years later even in divorce he still demands my attention.
I'm tired of feeling like there are days I want to cut class because of it.
I love life.
I love my children.
I love everything about being a mother.
If only…
The entire world knew what it was like to experience divorce.
There might be changes.
If only…
 (Photos courtesy of Pexels)
Follow me on Facebook @Colleen Orme National Columnist on Twitter @colleenorme
on Pinterest @colleensheehyorme
E-mail: Colleen.Sheehy.Orme@gmail.com
www.colleensheehyorme.com