When you are getting a divorce you involve all the people who love you. They worry. It's natural.
When you experience a marathon – 'divorce on steroids' they worry more AND you exhaust them.
I spent my whole life making responsible decisions. That is, minus a few my high school and college BFF's might be able to share. Suffice it to say my whole adult life.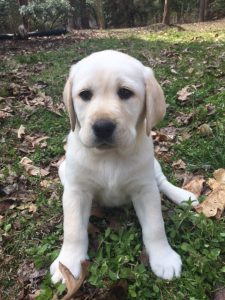 I was a planner, a saver and a person who always had a backup plan. The natural result of being raised in a single parent household.
All that went out the window when I made a man mad by divorcing him.
All the years of saving and investing and being responsible. It's all gone. Worse, I have been held hostage for three and a half years. No matter what decision I make there is a counter repercussion. Regardless, I still made the best and most responsible decisions each and every step of the way.
And then came yesterday.
I made my first bad GOOD decision of divorce.
Some will judge me and others will understand.
My life and my children's lives have been on hold. Waiting on the actions of one person who dictates our future. Where we will live, when we can move on and more. One day I think we are staying in the house, one day I think we will move to a friend's basement, and another I am looking at rentals.
The truth is I have been planning this birth for a long time.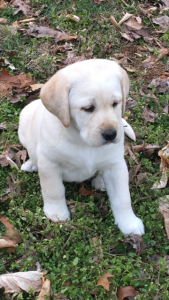 I just felt the timing was off given my ongoing debacle.
I initially looked into fostering rescues.
A perfect alternative. Love and then deliver the cuties to someone new. But one rescue didn't like that an electric fence borders my two-acre property (even though I told them I would never put the puppy on the electric fence – I would walk it). Yet another didn't like that I believed in crate training. Another said it was mandatory I attend every weekend adoption event – all day both days. Something I couldn't do at the time because of my children's weekend obligations.
No matter, I tried to foster one last time and never heard back after filling out the form.
Now mind you, I worked in a kennel affiliated with a veterinary hospital from the age of fourteen until twenty-one when I graduated from college. About a decade ago, I fostered probably ten dogs but that rescue was farther away and hence, why I was looking for a local one now.
Let's just say I am confounded and frustrated by the escalated fostering process. I could have housed and temperament tested dozens of dogs in the time I wasted investigating it. I think it would have been easier to just adopt.
But responsible Colleen was being responsible. I should wait.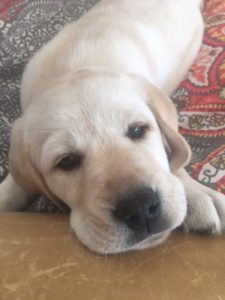 Then low and behold after two years on and off of talking to rescue organizations, I drive past my Hazy's birthplace on National Dog Day no less.
And like diamonds glistening in the mid-day sun, there lay six golden members of Hazel's kin.
A box headed beefcake finds her way towards me.
And I knew she was mine – or should I say ours.
After all, in my divorce prayers the night before I did pray for miracles to begin appearing in our lives.
Anyone who knows me, knows I am going nowhere without my Hazel so wherever we move it is simply one more family member to tag along.
The truth? I have hocked jewelry for far less these past several years.
This time I did it for love.
If you fall into the category of shock and judgment please do what I like to tell my high school BFF's to do when I can't make a night out – – Do the next best thing talk about me.
If you are my family – – well okay, you all deserve to flip out a little after all I have put you through with worry.
And if you are one of 'the understanders' we really need to give this sweet chunk of golden beefcake a name.
Any suggestions????
I need to put it on her birth announcement.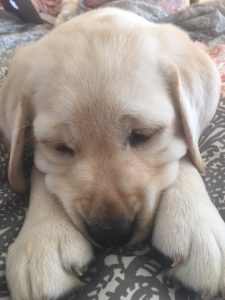 (Photo courtesy of Human Pet Mother)
Follow me on Facebook @Colleen Orme National Columnist
Medium @colleenorme
Instagram @colleenOrme
E-mail: Colleen.Sheehy.Orme@gmail.com