I brave the streets of New York City on this proud Irish holiday.
A sea of self-proclaimed Irish greenery amongst the blue of this city's finest.
Sounds dramatic, right? Yet two hours of walking in lieu of a cab does constitute shock to a girl who works overtime to meet her Fitbit requirement in the Washington, D.C. metropolitan area suburbs.
A symphony of horns begs to drown out the pain of my insoles.
I transport back to my childhood. My mom returning to her Brooklyn roots and I along side her. I feel a mix of nostalgia, family, pride, belonging and excitement to this city.
It is naturally my second home as it was my mother's first.
And I am proudly all things my mother.
Now that I am past the age of sixteen, that is.
I have a plan for my trek through the city. I will make my way to my oldest son's office building in the home of the Rockette's. He has just recently become the New Yorker I have always claimed to be.
But as I get further uptown into the sea of green I find myself deeper into the blue. 
They are so familiar to me.
They are my grandfather, my uncles, and my cousins.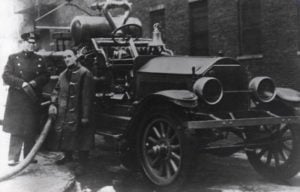 I want to stop and talk to them.
To scream my family moniker while they all nod and enthusiastically say, of course, they know a member of my mother's surname. I hold back. I understand I am a pittance of the grand representation here this day. I just feel a sense of belonging I wish they all could know.
I want them to understand as I pass them on every street corner and in between, I know who they are. These first responders who are givers. Who stand by while we enjoy our moments ready to rescue us without question. I want them to know I am one of them. Just as fans shout loudly for their team.
These are my people. Though I do not possess the bravery or resilience they casually boast.
I struggle through the alive and crowded streets. The echoes of bagpipers dig deeply into my mind.
The policeman sweep by increasing their drama with the individual cradling of the red, white, and blue. The fireman follow in their robust glory while egging us to cheer the on and we joyfully comply.
When they are celebrated and all is over, I head to the closest restaurant. I have a column to write, I have not eaten all day and taxi envy regrets chide me along.
Despite being St. Paddy's Day I swing my backpack open and grab my laptop. I had not intended to be in New York City this week. I had rushed here when thankfully, a misdiagnosis of appendicitis made me feel an urgency to get to my son. So I begin to swipe at computer keys while the other patrons take a swig of Guinness.
I am no martyr. I begin with coffee and later make beer an accompaniment. 
Three kindred souls slide a barstool next to me and inquire what I am doing. After all, I appear to be making the green rather than celebrating the green.
I tell them I am writing my column.
"Oh," says one of them. "You're a Carrie Bradshaw! Sex in the City!"
"No," I respond. "I am more like 'single in the suburbs.'"
"No," he says urgently. "You are living the dream! You are a writer in a bar in New York City writing your column!"
We chat a bit all three of us. It turns out these are some of my people. They are first responders.
I tell them I understand why they know I am living my dream because they also have a passion which burns within them and they are living their dream. Goodness knows, it takes a special calling to race towards danger when others race away.
We continue to bond.
We laugh.
They say, "Hey don't say what we just said in your column."
We laugh again.
I vaguely imply they will be in my column and they said they will read it.
We say goodbye. We wish one another well and I know I met the three people I hoped to meet on the street today. The ones I wanted to proudly tell I have brave family members just like you.
A few minutes later I finish my column and ask to clear the tab.
David, the bartender says, "The three people you were just talking to paid for your drink."
I said, "Of course they did leave it to first responders. They are always giving."
And now, I hope they are reading.
(Family photo of my grandfather Thomas McCaffrey a New York City Police Officer)
Follow me on Facebook @Colleen Orme National Columnist on Twitter @colleenorme
on Pinterest @colleensheehyorme
E-mail: Colleen.Sheehy.Orme@gmail.com
www.colleensheehyorme.com