I walk behind my chocolate lab, Hazel. Surprisingly, I notice her waddle is gone and her wiggle is back.
Hazy is modeling the obvious rewards of her low carb, pre-measured food, and occasional veggie diet.
Sadly, I can't say the same for her doggie momma.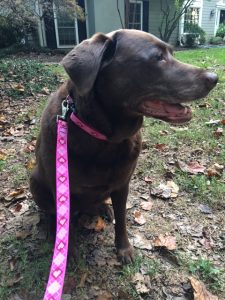 "It's a big day," I think to myself (actually I may have said it out loud) – I admit, I talk to my dog. Can you blame me? After all, with my divorce, she has become one of the more sizable (I can never resist a pun) relationships in my life.
"Hazy, you must be down at least five to six pounds! A whole doggie 'clothing', I mean 'collar size,'" I say or 'think.'
Hazel and I meet up with the neighbors, both hers and mine. Hazy's go by the likes of Bear, Charlotte, Bruin, and Gretchen. Bruin her chocolate lab counterpart is feeling the excitement of the crisp fall air and before we know it he is off. And with that, so is Hazel's collar. Whadda know? She's gotten so skinny her clothes are falling off of her.
Thankfully, it's a quick run and they circle back to the 'hood' pack – both pooches and humans.
That settles it! Every self-respecting girl needs to show off her hard-earned curves and my Hazy is no exception.
I make my way back up the driveway and into the house. Hazel slurps some water in true lab fashion (there I go again) making sure to saturate as much of the hardwood as possible. She collapses into said water as she sprawls across the floor exhausted from her workout.
I head back out the door. No need to take her along for the ride because of course, with this much weight loss she would want to try on everything. And let's just say they love her at the local doggie boutique just not how much she tends to 'talk' there. It seems her mommy and her have more in common than just needing to lose a few 'lbs.'
I park and make my way into the store. I spy a cute little matching outfit in Hazel's fave color. Okay, so it's my favorite color. One of us chickies has to be decisive and pink will play well with her chocolatey brown coat. A new princess dog tag is the perfect accessory. I throw my goods up on the counter and slap a treat there as well. Come on! In between the meager dry food rationed with a tablespoon of canned pumpkin twice a day, I would say she's earned it.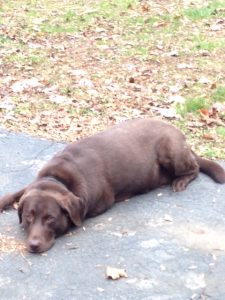 I walk through the door of the house and Hazel pummels me. Her dieting nose a step ahead of the bags I carry in with me.
The tags come off and on go the new clothes. Whadda know? They fit perfectly.
No self-respecting girl sits at home in a new outfit. We take off down the street in search of Hazy's boyfriend. 'Bear,' the muscular rottweiler. We say 'hello' and head back towards home. Hazel's new wiggle leading the way.
A minor disclaimer…Hazel didn't consent to the 'before and after' pics.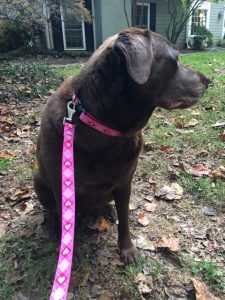 (Dog's Dramatic Weight Loss – Before and After: Dog Loses 5 Pounds)
Follow me on Facebook @Colleen Orme National Columnist
on Twitter @colleenorme
on Pinterest @colleensheehyorme
E-mail: Colleen.Sheehy.Orme@gmail.com
www.colleensheehyorme.com