Dogs! How can everyone not love them?! They define love. So throw them an extra bone this Valentine's Day!
Here are 10 Ways to Love Your Dog More! This list ranges from product subscription services, to Doggie Magazines, to businesses that give back to their doggie rescue friends, to some of the cutest and best pooch products out there, to a twitter feed that celebrates the silly and lovable in canines to just being a 'Pawfect Pawrent' and spoiling them like a good mom and dad.
Many descriptions below are in the businesses 'own words.'
1. Barkbox – A box of high quality dog products for your pup delivered to your door each month. From toys and innovative gadgets to gourmet treats, bones, hygiene products and essentials – this is doggy heaven on earth!
Website: www.barkbox.com
Facebook: BarkBox
Twitter: @barkBox – Also follow @BarkPost on Twitter
2. Pawpack – An assortment of healthy and sustainable dog products delivered to your door monthly.
Website: www.pawpack.com
Facebook: PawPack
Twitter: @ThePawPack
3. Dogtime – Looking to find your wag? Dogtime.com is the number one spot for humans searching for information about dogs.
Website: www.dogtime.com
Twitter: @dogtimedotcom
4. Modern Dog Magazine – Modern Dog Magazine – the best dog magazine ever!
Website: www.moderndogmagazine.com
Facebook: Modern Dog Magazine
Twitter: @ModernDogMag
5. The Bark – Premier dog culture magazine. Articles, stories, art & experts on relationships between dogs and humans. Motto: Dog is my co-pilot.
Website: www.thebark.com
Facebook: Bark Magazine
Twitter: @The_Bark
6. Cutest Pooch Product Websites:
www.apetwithpaws.com – eco-friendly, sophisticated carriers and accessories and the Mandy backpack lets
dogs carrier their own treats and waste disposal bags. The Scarlett Poop Pick-up Bag Wristlet too cute.
www.baxterboo.com – Ridiculously cute stuff
www.puplife.com – Adorable dog products for the pup that's like family
www.Thebarkshop.com – Cutest products (affiliated with the BarkBox and the BarkPost)
www.spoiledsweetpets.com – Dog beds alone are worth checking out! Tons of cute stuff!
www.harrybarker.com – Pure doggie style, drool worthy treats and charming toys – must check out.
www.chicpooch.com – An eco-friendly, upscale doggie boutique. Bring a little leopard to your pup.
7. DOG for DOG – An all natural dog and treat company with a mission to help dogs in need. You buy one – they give one to a dog in need. A wonderful way to give back to all doggie friends.
Website: www.DogforDog.com
Facebook: DOG for DOG
Twitter: @DogforDog
8. The Animal Rescue Site Store – This is another fabulous way to love your dog while watching out for other dogs. Every time a product is purchased it funds the value of at least fourteen (14) bowls of food for shelter animals in need.
Website: www.theanimalrescuesite.greatergood.com
Facebook: The Animal Rescue Site
Twitter: @theanimalrescuesite
9. Dogs Heart Me – All about dogs daily. If on twitter a must see for all things cute and cuddly.
Twitter@Dogs_heart_me
10. Then of course, there is just old fashioned spoiled 'Pawrenting.' Go ahead let your pup on your favorite chair. It is Valentine's Day, after all! Take Fido for an extra walk or better yet, both a ride in the car and a walk. Sit on the floor with him for a good twenty minutes of strict playtime – all your attention. Bring him to visit his friends so he can be with his four-legged loves this Valentine's Day! Maybe even buy some Valentine's gifts for him to give his furry friends.
Make it a Pawfect, Valentine's Day for the one who loves you 24/7 unconditionally!
Hazel – Enjoying the chocolate, zebra, ultra-suade in her mom's office (One of the only chairs she's not usually allowed on)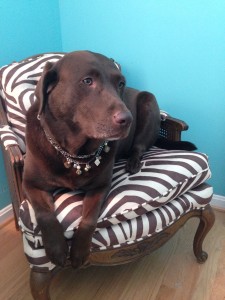 Follow me on Facebook @Colleen Orme National Columnist
on Twitter @colleenorme
on Pinterest @colleensheehyorme
E-mail: Colleen.Sheehy.Orme@gmail.com
www.colleensheehyorme.com