I jump out of the car. I fill my tank up with gas and make my way over to the nearby Starbucks. I'm in and out in a hurry. My Trenta green iced tea in hand.
As I start to pull away, I spot my friend who I will call "LuLu."
"Lulu" is chatting away on her phone. I start to wave my hand, a big smile comes across my face. The kind of smile I always felt when I would spy a friend – like you spot your best present on Christmas morning.
I don't want to duck and hide anymore.
I talk a lot about the tears of divorce.
Lately, there are smiles sprouting up and poking between them. Little parts of me finding their way back to the surface…mostly because I am no longer apart of a 'two' that doesn't work, but instead 'one' that can work on myself.
It's happening more and more, 'that Christmas morning smile.' Only today it hit me because "Lulu" was distracted so instead of greeting her I noticed my old familiar body language of flailing to get a friends attention rather than pass them by.
Divorce temporarily made me a passerby. A chin up buttercup kinda girl or it made me so desperate to be heard that instead of being 'chatty funny' I was 'long run on sentence chatty.' In my defense, I had overstayed my welcome with someone at home who wasn't listening to me at all.
No matter now because 'that Christmas morning smile.' My 'joie de vivre.' My usual delight in the every day moments is returning even if they are just sprouting buds rather than full blooms. I will take them. No, I will happily reclaim them.
My heart is losing weight and I can carry it with me again. Thankfully, pain evaporates if you exercise it enough.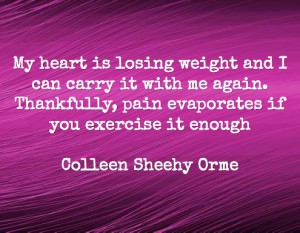 Follow me on Facebook @Colleen Orme National Columnist
on Twitter @colleenorme
on Pinterest @colleensheehyorme
E-mail: Colleen.Sheehy.Orme@gmail.com
www.colleensheehyorme.com