I slip my feet out of the stirrups, swing my leg over and slide off. The barn smells of the trademark signs of all things horse. It is a familiar smell for me. A good smell. One that transports me back to my childhood. Of running through fields on horseback, adventures in the woods, staring at the stars while lying on the freshly cut lawn of summer.
We walk out of the riding ring. It is my mentor and me.
"I know that I shy away from staying tight to the outside corner of the ring," I say. "I was riding some time ago when my horse was spooked by a car and I was thrown."
"We all have baggage," she responds casually and confidently.
"Don't I know it?" I say. "The reason I am getting divorced is because my husband didn't seem to think he had any. Me, I am aware of the baggage I bring forward."
I think about the horse I have just gotten off of.
The vulnerability of staying on him while building the strength back up in my legs. It could be a metaphor for divorce – for life. The vulnerability I feel in facing all of my fears of just how I will make this new beginning work…of how I will support my children and me…of how I will need to be all things. It is the same vulnerability in facing fear to regain my strength.
I think of the irony of choosing this time to get back up on the horse again (Sorry, just couldn't help myself with this one – though you had to see it coming)!
The truth is I chose to start riding again intentionally at this time. To go out and find the girl I lost. I just didn't see the ironic parallel to the physical and emotional strength – the equal vulnerability in riding and this life transition – this dirty word called divorce.
I thought I was combining the search for 'the girl lost' with 'the girl who needs to lose pounds.'
I forgot about the cathartic part of climbing back up on that gorgeous horse – of the chance to lose some emotional pounds with the physical pounds. To shed a bit of baggage.
It's no wonder…
Cowboy's aren't fat.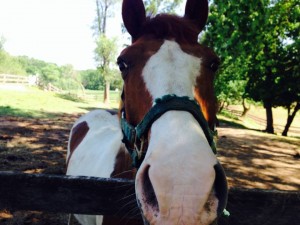 Follow me on Facebook @Colleen Sheehy Orme
on Twitter @colleenorme
on Pinterest @colleensheehyorme
E-mail: Colleen.Sheehy.Orme@gmail.com
www.colleensheehyorme.com