This time of year, I'm always excited when I look at my google analytics and see that people have landed at my blog by searching for "hamentashen recipe". I love the idea of people all over the world making my great-grandmother's fabulous hamentashen, the same ones my mom made with me and that I make with my girls.
The recipe is undeniably awesome, but it can be a little persnickety. So I've re-posted it, improving the directions slightly to make the experience a little more fool-proof. (Not that I'm calling you a fool, mind you.)
Hamentashen
Dough Ingredients:
2.5 – 3 cups flour (add 2.5 cups to start, and reserve the last half cup to add gradually as needed)
2 large eggs
2 tsp baking powder
1 stick butter or margarine
½ tsp salt
¾ cup sugar
Cream the butter and sugar. Add eggs. Mix. Add the dry ingredients. This is easiest to do with a Kitchen Aid or another good electric mixer. Add the last half cup of flour gradually, just until the dough holds together and is only slightly sticky. Form a ball, wrap in plastic and refrigerate for at least 15 minutes.
Prune Filling (my great-grandmother's specialty): ½ lb pitted prunes soaked overnight in water (about an inch higher than the prunes) then cook with a little sugar and cinnamon until very soft. Mash to break up the prunes (I sometimes puree it with an immersion blender, but it's not necessary.). Squeeze in a little lemon to taste.
Roll the dough, and cut out circles ~3" diameter (I use a drinking glass for this.). To see how to fill and fold the pastries, watch this video from Shalom Sesame, made by the Sesame Street Workshop (Folding starts at around 2 minutes, but the whole video is worth watching.)
Recently, I've started rolling my dough in between two sheets of parchment paper and can't believe it took me over 40 years to discover this trick.
Bake at 375 for 12-15 minutes, until lightly brown around the edges.
This year the girls insisted on doing almost everything themselves. Here they are hard at work: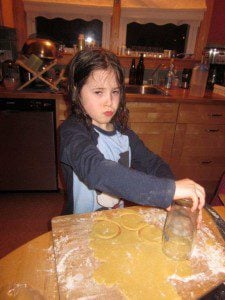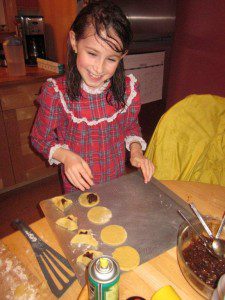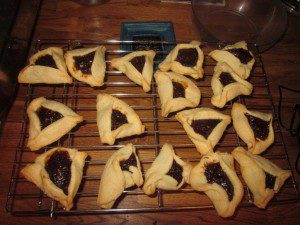 This past Sunday, when we should have been baking, I took my daughters and one of their friends to participate in a Purim opera at the National Yiddish Book Store. Children had the opportunity to appear as a children's chorus and a few walk-on rolls. Here are Zoe and her friend Ryan as contestants in the beauty pageant to select a new queen.
Here they are dressed as animals performing at the dinner Esther prepares for the King and Haman (who looked suspiciously like Louis C.K.)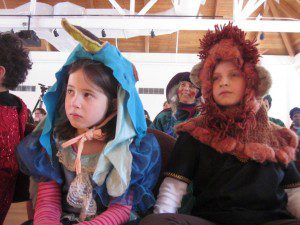 Time to make those rice crispy-treat baskets! Chag Sameyach!