This summer I had the chance to meet my number one author crush, Kevin Henkes. He was the keynote speaker at the Summer Institute for the Teaaching of Writing that I attended this summer at Teacher's College, and while I didn't have the foresight to come armed with books for him to sign, I did get to shake his hand. I've always loved his picture books, but after hearing him speak, I remembered how incredibly well-suited his books are for the start of the school year. During the first weeks of kindergarten we read Wemberly Worried, about first-day-of-school jitters, Chrysanthemum, about a little girl whose classmates tease her about her florally name, Chester's Way, about two very-best friends who need to figure out how to welcome a third child into their circle.
With Yom Kippur approaching, I rifled through my High Holiday books, searching for something besides the story of Jonah to shed light on the theme of teshuvah, or repentance. There isn't much out there, actually (note to self: work on Yom Kippur manuscript.) I've written before about using David Gets in Trouble by David Shannon to teach the most basic elements of teshuvah, but I felt that my kindergarteners were ready for a slightly more sophisticated lesson. We found it in Kevin Henkes' perfect book Lilly's Purple Plastic Purse. (All I can say is, "wow.")
I couldn't possibly capture everything that makes this book so wonderful. You'll have to trust me (have I ever steered you wrong before?) and go buy it immediately at your local independent bookstore so that you have it in time for Yom Kippur. But I will explain why it's so perfect for the holiday. In the story, Lilly makes a huge mistake. She does something very unkind (but very funny) to her beloved teacher Mr. Slinger. Over the course of the story, she admits what she did to her parents. She demonstrates remorse. She takes responsibility for what she did. She apologizes to her teacher. She does something kind to make up for her mistake. Throughout the process her parents and her teacher are supportive and understanding and help her move forward in the right direction.
If you need convincing about how wonderful Kevin Henkes is, check out this NY Times article which does a far better job than I could of describing his gifts. (I think I'm the only one to write about the teshuvah angle, though) And if you need more convincing than that, here's an awesome negative review of Lilly's Purple Plastic purse that I found on Amazon.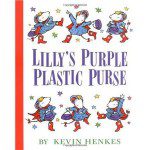 My MIL purchased this book for my daughter who is 15 months old. I just recently sat down to read it to her. All in all, a cute book, but I was surprised and annoyed at the illustrations in the book. This book definitely has a liberal slant to it – the teacher wears "artistic shirts" and in the picture, he has the words "Global Village" and "One World" written on the chalkboard. Really? This is supposed to be lower elementary school, and I found that to be a thinly-veiled attempt to convey liberal politics to the reader. Additionally, although not as annoying is that when Lilly's parents help her apologize, the dad is wearing a peace shirt and is making the treats which seemed to be, again, liberal in nature.
The author is free to include his politics in the book, but I thought that parents should be aware of this agenda.
Really, doesn't that make you want to read it even more?
May your own teshuvah be as meaningful and complete as Lilly's. (And may your treats be liberal in nature.)