In one week, we'll be preparing our deliveries of Mishloach Manot, gifts of at least two kinds of food that are traditionally delivered to friends and family on Purim. What goes in our mishloach manot? Hamentashen, of course, and if you haven't tried my great-grandmother's recipe then you simply haven't had Hamentashen. We usually make at least one other kind of baked good, and add some bags of homemade kettle corn (the foods in the container should require at least two different brachot.)
Of course, you can put your treats in a container that the recipient can put to use for another purpose (a lunchbox, a baseball hat, a bandana, a ceramic bowl.) But, if you are trying be economical, or artsy, or just reduce the amount of "stuff" changing hands (I'd raise my glass to all three), then these aren't good choices.
Our favorite baskets are made from cereal boxes. We cut off one side, and retool part of that side to make a handle, and then decorate the boxes inside and out with art materials. I led an art workshop last spring where we made a whole tableful of these containers.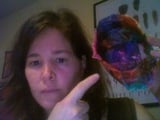 What will you be putting your mishloach manot in this year? And what will you be putting in the thing you put them in? Homeshuling wants to know.