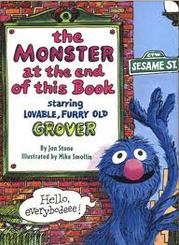 There's an inherent problem with board books, those little book-ettes made entirely of hard cardboard. Generally, babies will fixate on one (often the one you hate the most) and ask for it again. And again. And again. But once they are old enough for "real books" (you know, the kind that teat when you bite them) they refuse to even look at board books. Which means that board books are really for grown ups, because we are the only ones who ever end up listening to them (again, and again, and again.)
When my girls were little, they had a few board books that I loved, and a few that I hid in the attic. The best ones had attractive illustrations and an appropriate amount of text for the medium. They were also either very soothing (Good Night, Moon and Time for Bed) or very clever (There's a Monster at the End of This Book and Good Night, Gorilla.) Also, they had sturdy bindings (and non-toxic ink.)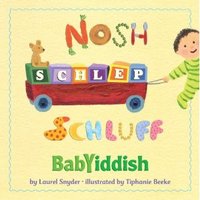 I was excited to see that one of my favorite children's book authors,
Laurel Snyder
, had a new board book, so I requested a review copy of
Nosh, Schlep, Schluff
from Random House. I haven't had a chance to test it out on the toddler set, but this baby-yiddish lexicon definitely meets many of my criteria. The pastel illustrations are very, very sweet. I especially adore the multiple images of children in footed pajamas, the baby clothes I miss the most. And because it's from Laurel, it can't possibly
not
be clever. My favorite moments? The image of the baby saying "nu?" to his stuffed animals, and the inclusion of the word
tuches
and
plotz
. Who wouldn't enjoy saying those words to a toddler? (Again, and again, and again.)
As for the story? It's a board book. It's not a story. The rhymed pages do what they are intended to do – introduce a few yiddish words, and stand up to more than a few toothless bites. And not drive parents crazy. In other words, a great baby gift.