As you may have heard, there's been a lot of snow around here this week. What better way to spend two snowbound days than to do a little baking? (Also a lot of writing, though not for the blog. I finished a draft of a picture book about my challah-stealing dog, based on a true story, which I'm quite excited about.)
First of all, cornflake cookies. What made me google this recipe? I have no idea. It descended upon me like my craving for tuna casserole when I was pregnant – a food I had never eaten in my entire life demanding that I cook and devour it IMMEDIATELY. And OFTEN. In LARGE QUANTITIES.
These cookies are surprisingly light and delicate, which makes it dangerously easy to devour about a dozen in no time. It goes without saying that they should be accompanied by a glass of milk.
1 c. sugar
1 c. butter
1 tsp. vanilla
1 1/2 c. flour
1 tsp. each baking soda and cream of tartar
Add dry ingredients to creamed mix gradually. Stir in 2 cups cornflakes; mix well and add 1/2 cup nuts if you like (I didn't.) Drop by teaspoons about 2 inches apart (cookies will spread out). Bake 12-15 minutes at 350 degrees.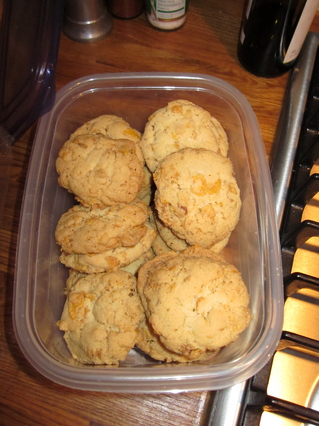 The second recipe is for Pretzel Rolls, a delicacy I first fell in love with at the Hot and Crusty chain in New York City. Our local bakery, Bakery Normand, makes an even better version. I tried this recipe. They were very bit as good as Hot and Crusty's, and not quite as good as Bakery Normand's. (Sorry, we devoured them so quickly I didn't get pictures.) I've made three batches in the last week, and I'm not sick of them yet. (Though I love hot pretzels so much that when I lived in Philadelphia, I used to buy them from the food trucks for breakfast.) In fact, I'm considering Susie Fishbein's Hot Pretzel Challah for this shabbat. If I do, I promise to post photos.
Happy baking. And by the way, this is not a food blog. Really.