It's erev my birthday on the secular calendar. (Wondering when your birthday is on the Hebrew calendar? You can find out here.) Tomorrow I'll be something-something. No, actually I'll be 43. After spending the weekend with a bunch of young hippies at the Teva/Adamah staff reunion, it's actually starting to feel kind of old.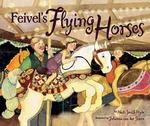 What better way to celebrate than to offer a children's book giveaway? (Well, a romantic dinner with my husband, for one, but that will have to wait until we have a babysitter.) Kar-Ben publishers (yes, the folks who published both my first and upcoming books, and yes, who sent me a copy to review) are offering a very sweet story,
Feivel's Flying Horses
, by Heidi Smith Hyde, to one lucky reader. It's the story of how an immigrant turns his skill at carving synagogue furniture into a viable career as a merry-go-round horse artisan. I still feel about ten years old when I go on the rides at the Rehoboth Beach boardwalk with my kids every summer, so this seems like a perfect match for the day.
To enter, all you have to do is post a comment about a favorite birthday tradition. For you, this time. Not your kids. Post by the end of November 21 in order to be eligible.