Living in a semi-rural New England community, you don't see a lot of sukkahs with bamboo mats for roofs. We're proud of our agriculture, and the abundance of gardens and farms. We're not just locavores (or should I say locafressers), we're loca-Jews, and we are not getting our schakh all the way from China, thank you very much.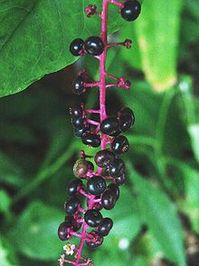 For our first sukkah in New England, I tried gathering schakh from our backyard. I used some downed spruce branches, and some beautiful pokeweed. With the bright fuschia stems and deep purple berries dangling above our table, our sukkah looked like a scene from a Norman Rockwell painting, had Norman Rockwell ever painted Jews. Within days, it was raining spruce needles, which would have been bad enough, until it also started raining pokeberries. Which are toxic. That too would have been bad enough (dayenu!) Until my children started stepping on the berries and tracking purple footprints throughout the house.
So the next year, and for the next few years since then, I opted for the more traditional Massachusetts choice, corn stalks. I posted on our local freecycle board, and thanks to my generous neighbors, brought home several bundles. They are lovely and seasonal and my girls love helping harvest them. And I am very allergic. Every year, I forget to wear gloves and every year (including right this very minute) I break out in small red welts all over my forearms.
Next year, I'd really like to grow something in our garden that would make the perfect schakh. Any suggestions?