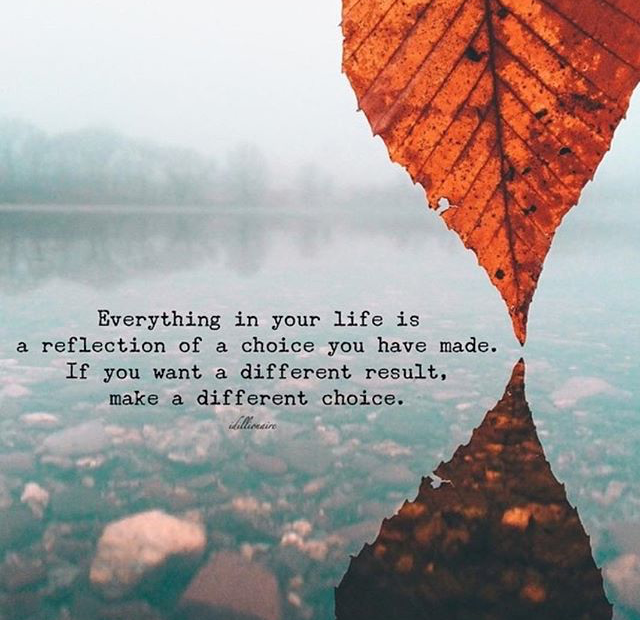 "Everything in your life is a reflection of a choice you have made. If you want a different result, make a different choice."
It may not be easy to reflect and review previous choices and the results that followed. It is important and in some cases essential that a proper overview be done at regular times to clarify where you are placed (in the present) and where you are going in the future.
Where to from here?
Everything you have chosen has brought you to this "NOW" moment. Everything you choose now and in the future will create the future.
If you wish to have different results, then new choices need to be made. Perhaps hard decisions, and a reality-check is needed to right the ship, and navigate your way home!
"Your light emanates the most powerfully when you are living life to the beat of your own drum." ~ Desai
What is your unique vision? Your internal light has a special dance, a special expression of the One creation, something unique and special to you. If you allow yourself to stay small, then you keep the world from experiencing your unique light. The world needs to shine like a rainbow. The world needs you to shine. Our very existence depends upon you.
You are giving birth to the universe – you are that important!
Wishing you much success on your journey.
With love and light,
David
_______________________________________________________________
Photo Credits: Photo via Quotlr – http://quotlr.com/image/3324
No Copyright Infringement Intended.
What do you think? Feel free to comment down below!
You are awesome as you are, and I love you!
And if you love me back, please click 'share' up at the top!
David G Arenson ND (Zenon) – Australia's Leading Soul-Coach.
Find out more about me: http://transformationalmedicine.net
Facebook: davidarenson