Henry Charles Bukowski (1920 – 1994) was a Los Angeles writer and existentialist, who wrote about poor people when it was unfashionable to do so, publishing over 60 books in his career.
Described by Time magazine as the "laureate of American lowlife," his outspoken column, Notes of a Dirty Old Man, in underground newspaper Open City, was the subject of an FBI investigation.
10 of Charles Bukowski's Greatest Quotes:
"You have to die a few times before you can really live."
"What matters most is how well you walk through the fire."
"Find what you love and let it kill you."
"I wanted the whole world or nothing."
"I never met another man I'd rather be. And even if that's a delusion, it's a lucky one."
"What is terrible is not death but the lives people live or don't live up until their death."
"Some people never go crazy, What truly horrible lives they must live."
"Sometimes you climb out of bed in the morning and you think, I'm not going to make it, but you laugh inside…remembering all the times you've felt that way."
"I carry death in my left pocket. Sometimes I take it out and talk to it: "Hello, baby, how you doing? When you coming for me? I'll be ready."
"Sometimes you just have to pee in the sink."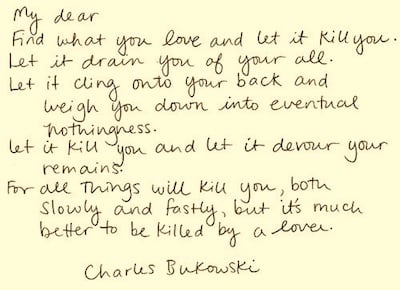 _________________________________________________________________
What do you think? Feel free to comment down below!
You are awesome as you are, and I love you!
And if you love me back, please click 'share' up at the top!

David G. Arenson ND, Australia's Leading Soul-Coach – Spiritual Teacher and Energy Healer
Find out more about me: http://www.findshambhala.com
Inquire about arranging a retreat: http://www.mretreat.com
To send a question for Q&A with David, please email David – david@mretreat.com