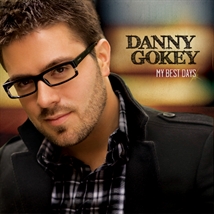 American Idol contestant Danny Gokey is known for more than just his singing story and personal story. The former worship leader is famous for his eyewear.
In a press release, Wisconsin Vision reports:
Former American Idol finalist and current country music recording artist Danny Gokey has signed a two-year marketing agreement with Wisconsin Vision, the state's largest independently owned optical company. For Gokey, known for his passion for eye wear, the signing is his first long-term endorsement deal and his first with a Wisconsin-based business. The agreement is Wisconsin Vision's largest-ever marketing investment and first use of a celebrity spokesperson.
Under the agreement, Gokey will wear up to 60 pairs of Wisconsin Vision glasses, be featured in Wisconsin Vision Milwaukee-area marketing campaigns including television and outdoor advertising and social media, and make personal in-store appearances.
The company's first television commercial and outdoor ads featuring Danny Gokey will appear in May. The Wisconsin Vision website will also feature documentary-style videos featuring Gokey.
Danny Gokey was the third runner up on American Idol, season 8, and captured viewer's hearts with the story of his late wife, Sophia. Gokey released his debut album, My Best Days, last week.
RELATED POSTS:
More on American Idol contestant Danny Gokey and wife Sophia
Other posts about Danny Gokey
American Idol season 9 auditions and recaps – complete list of posts
Got a gospel or Christian music news tip? Send me an email!
Click here to subscribe to Gospel Soundcheck by email and have the Gospel Soundcheck headlines delivered daily to your email inbox. And don't forget to follow me on Twitter!