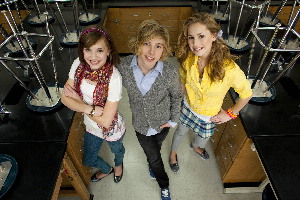 Tween pop/dance group pureNRG has decided to call it quits in 2010.
The trio – Jordan, Caroline and Carolyne – have racked up quite an impressive resume, considering they've only been a group since 2007 and they're still barely into puberty. (Well, Jordan is probably almost 17 now, but Caroline and Carolyne are close to 15 and 14 respectively.)

Their self-titled 2007 made them the Top Selling Artist At Christian Retail in 2007; their sophomore project,
Here We Go Again,
landed them at #2 on the Christian Soundscan chart and in the Top 10 Christian Albums at iTunes; and their last album,
The Real Thing
, debuted at #20 on Billboard's Top 200 Chart and #1 on the Christian Soundscan chart. They've shared the stage with Casting Crowns, tobyMac, BarlowGirl, Mercy Me, Brandon Heath and Skillet, and enjoyed coverage from Billboard magazine, Barnes & Noble.com, PowerSource magazine, About.com, JCTV, Daystar TV, JesusFreakHideout.com, CBN.com, NewReleaseTuesday.com and airplay on Disney radio.
As a farewell and thanks to their fans, the pop trio will be releasing a Best Of CD/DVD collection on July 20, which will be available exclusively through Family Christian Stores, along with one final tour before the end of the year.
For more about pureNRG's upcoming album and tour, visit
pureNRG's official website.
More
Gospel Soundcheck posts about pureNRG.
Got a gospel or Christian music news tip? Send me an email!
Click here to subscribe to Gospel Soundcheck by email and have the Gospel Soundcheck headlines delivered daily to your email inbox. And don't forget to follow me on Twitter!