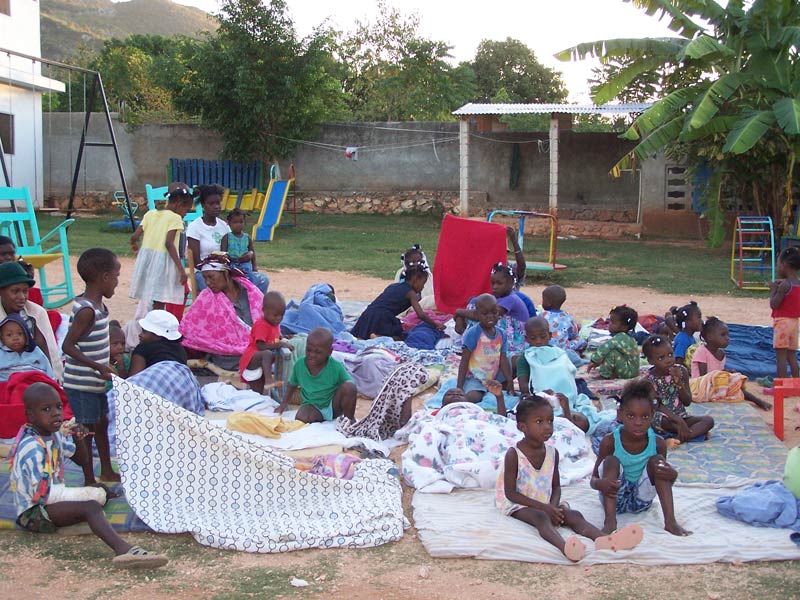 The Hands & Feet Project, the orphange in Jacmel, Haiti founded by Audio Adrenaline, has been effected by the 7.2 magnitude earthquake that hit Haiti this week.
While most of the attention has been focused on the captial of Port-au-Prince, Jacmel, along the southern coast, has also been devastated.
Updates on the Hands & Feet website say the kids are all safe (this photo is from the website) but they are experiencing aftershocks. The building has some cracks but neighbors houses have been devastated. One of the teenage nannies escaped from afternoon school but some of her classmates were killed.
Mark Stuart is in Haiti right now and gave an update on the organization's site this afternoon, which reads in part:

"The kids were out of the sun under the new kitchen construction, but we just had to run everyone out because of another quake. We see no signs of structural damage to any of the buildings. We are at a loss for how long the quakes will continue. I'm looking forward to night time so we can cool off. I think we will camp out again. Needless to say were pretty beat. We all moved around from the van to the truck to rocking chairs. Keep praying for the quakes to stop."
You may remember that the orphanage was hit by Hurricanes Gustav and Hanna back in 2008 and suffered major damage when rock and rubble washed down from the mountain.
While the project hasn't specifically asked for donations yet, I'm sure any help would be appreciated, including prayers for safety for the kids and for the aftershocks to subside, as well as for the coming weeks to be free from disease, death and confusion. And I'm sure that they would love prayers that the project could be a light for Jesus amidst the chaos.

For more information and updates from Haiti,
visit the Hands & Feet Project website.
RELATED POSTS:
2008 – Video of Hands & Feet Project in Haiti devastated by Hurricane Gustav
Got a gospel or Christian music news tip? Send me an email!Click here to subscribe to Gospel Soundcheck by email and have the Gospel Soundcheck headlines delivered daily to your email inbox. And don't forget to follow me on Twitter!