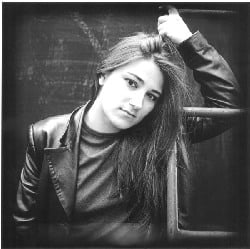 You heard me: Jennifer Knapp is back!
For those of you who never knew Jennifer Knapp, you don't know what you missed.
She launched on to the music scene with her folk inspired music. Her three label releases – Kansas, Lay It Down, and The Way I Am – sold over a million copies; Kansas is now RIAA certifid gold. She toured extensively, including a stint on the Lilith Tour.
And then she just disappeared.

Rumors abounded, of course, about where she was, what happened, what she was doing now.
I heard her speak at a festival once, back at her career high, and it was clear from her story that she had been a fairly new Christian when she signed with Gotee. I think she was probably sucked into the black hole fo the music industry, pushed to her limits, and then left behind to pick up the pieces when the weight of success came crushing down upon her. Did something happen personally, some sin or some mistake or some falling away? Who knows. It's hard enough to handle success when you've got a firm spiritual foundation. Fans just don't understand the pressure and stress of a life on the road; it's a wonder more Christian artists aren't falling apart before our eyes.
But that's just my opinion.
(Just an aside: I was talking not long ago with an established artist about a new artist he'd taken under his wing. The girl is good – really good – but this guy said he and the label agreed that before she released any music she would spend some time on tour with him, and get some steady spiritual discipling, so that her foundation was firm before her career took off. I think that's a brilliant idea.)

In any event, over on
Jennifer Knapp's website
you can read an open letter to her fans, where she says of the people who long hoped for her return, "Why you have even cared has been one of the great mysteries to me, at the same time a complete and utter blessing as it has always been."
She's got a new song up on her MySpace page, and yes, a show scheduled on September 24 at the
Hotel Cafe on Los Angeles, with Phil LaRue
. Really, this might be the show to see. Phil LaRue has a long history himself in Christian music, first as part of the duo LaRue, with his sister, then as a producer and songwriter, and now with his first solo album,
Let The Road Pave Itself
.
You can keep up with
Jennifer Knapp on her official website,
and listen to her new song,
"Letting Go," on her MySpace page.
(Thanks, to Kim Jones over at About.com, who tipped me off to this story in a Twitter post!)
Click here to subscribe to Gospel Soundcheck by email and have the Gospel Soundcheck headlines delivered daily to your email inbox. And don't forget to follow me on Twitter!