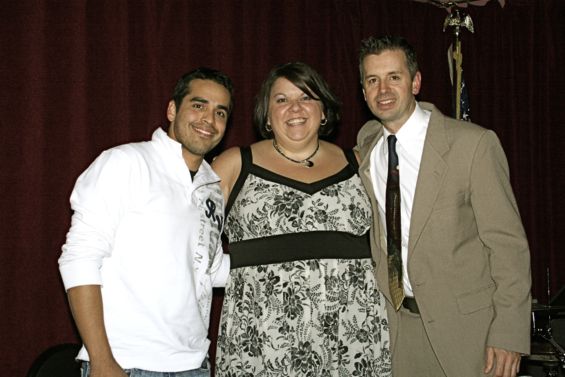 The Embassy Music 15th Annual Ultimate Talent Search competition took place over Labor Day weekend, and the big winners are (pictured L to R: Robert Mundo, Joanna King, Embassy Music president Darwin Moody):

Elementary music teacher Joanna King, who hails from Hattiesburg, Mississippi, was named the winner in the Songwriter category for her original tune entitled, "Son of God." King is currently a worship leader for her church. As part of her prize package, King's song "Son of God" will be released by Embassy Music to Christian radio as a Christmas single.
Ruben Mundo was took home top honors in the Artist category. Mundo won an artist development session, a professional photo shoot and a recording session with two-time Dove award-winning producer, Kene Bell. A carpenter by trade, Ruben is also a worship leader at Church on the Rock in San Diego, California. Last month, Mundo was one of three solo artists chosen in the "Best of the Blessed" competition. As a result, he was featured on the Christian Music Awards, hosted by Cece Winans and Brian Littrell, airing this fall on the Gospel Music Channel.
"I was really impressed with the level of talent we had at this event," said Darwin Moody, president of Embassy Music. "We heard some great songs and met some talented artists. I feel honored to play a small part in their careers."
Embassy Music specializes in discovering and developing new artists and songwriters. The Ultimate Talent Search has opened doors for artists and songwriters to connect with managers, booking agents, publishers, and radio promoters as well as recording contracts with labels such as Gotee, Virgin and Provident. For more information, visit the
Embassy Music website.
Click here to subscribe to Gospel Soundcheck by email and have the Gospel Soundcheck headlines delivered daily to your email inbox. And don't forget to follow me on Twitter!