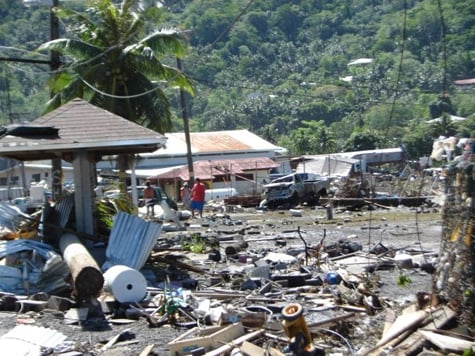 The Katinas have set up a fund to help the victims of the tsunami that rocked the islands of Samoa and their native American Samoa after a massive earthquake in the South Pacific earlier this week.
The Samoan-born brothers Sam, Joe, Jesse, John, and James – collectively known as The Katinas – were already planning their third annual mission trip to American Samoa in November. "It is very clear to us now what our mission is," the band writes on their website.

Fox News reports
that on Tuesday an earthquake measuring 8.0 to 8.3 struck about 125 miles from Samoa. Samoa is home to 180,000 people; American Samoa 65,000. (Samoa is located between Hawaii and New Zealand.) At least 99 are dead and hundreds missing.
The band tweeted yesterday that their family had made it to higher ground, but you can imagine the devastation and loss they've experienced, along with thousands of others on the islands. You don't have to know people personally on such a small island for everyone to feel like family.
If you'd like to help, you can donate through the
band's missions fund.
For more information about
The Katinas, visit their website.
RELATED POST:
Sam Katina talks about a lifestyle of worship
Click here to subscribe to Gospel Soundcheck by email and have the Gospel Soundcheck headlines delivered daily to your email inbox. And don't forget to follow me on Twitter!