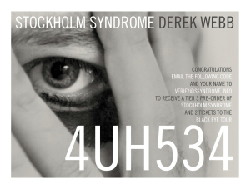 According to some reports, Derek Webb is in hot water with his record label about his new album, Stockholm Syndrome. The controversy is apparently over one of the songs on the album that includes the word "sh*t."
Knowing what little I know about Webb, my guess is that the use of a curse word isn't for shock value. (Although some of you reading this will faint, even though I didn't actually use the whole word.)
Webb is notorious for speaking his mind, regardless of who he offends, and he often tries to challenge the church with his lyrics. While I'm not exactly certain what the fuss is this time, it apparently has something to do with that song.
Then again … is there really a problem with the new album?

I went to his website, and found it down, with just two emails from Webb on there talking about the problems between he and his label. The first was in some sort of code, with underscores scattered throughout the text. I went to his new Twitter account and found some cryptic posts about artifacts and clues. Ah, so is this some Lost-style scavenger hunt!!
A little more searching and I found a great article at the Christian Post that says, "A closer look revealed that the letters after each mark together spelled out 'paradiseisaparkinglot' – the .com domain of a website that appears to be part of an elaborate treasure hunt in which pieces of a song have been scattered and hidden as 'artifacts' across the nation."
Looks like maybe this is all just a publicity stunt. In fact, if you go to DerekWebb.net, you'll see a blog with all of the info.
Although, while I was at GMA in April, I heard a rumor that Derek Webb was starting something my source called the "Give A Sh*t" club. (It reminded me of that quote by Tony Campolo: "50,000 people around the world died of hunger today. That's bad, but what's worse is that most of us don't give a damn. But what's even worse is that for many of us it is more bothersome that I just said the word 'damn' than that I said 50,000 children of God died of hunger.") So if the whole pre-release publicity stunt ends up still offending most Christians, I wouldn't be surprised. Leave it to Derek Webb to come up with a creative, engaging way to draw us in and then rub our nose in the truth of our own hypocrisy or spiritual blindness.
Click here to subscribe to Gospel Soundcheck by email and have the Gospel Soundcheck headlines delivered daily to your email inbox. And don't forget to follow me on Twitter!