An Ohio Christian high school student was suspended yesterday after he escorted his girlfriend to her prom at the public high school.
Yahoo News reported Friday that 17-year-old Tyler Frost, a senior a Heritage Christian School in northwest Ohio, was told by his principal that if he attended the prom at Findlay High School with his girlfriend Rebecca Smoody he would be suspended from school, and if it was found that he was involved with sex or alcohol at the prom he would be expelled.

Frost's stepfather told the Associate Press that he doesn't expect the school's rules to apply outside the classroom.
The code of conduct at Heritage Christian School forbids dancing, rock music, hand-holding and kissing; the handbook calls rock music "part of the counterculture which seeks to implant seeds of rebellion in young people's hearts and minds."
Principal Tim England told the Associated Press, "In life, we constantly make decisions whether we are going to please self or please God. (Frost) chose one path, and the school committee chose the other."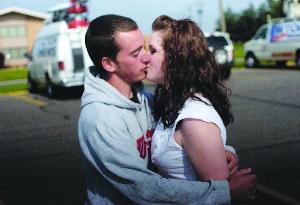 Ironically, the report in Ohio's Courier.com displays a picture of Frost and Smoody engaged in a lip lock in front of the school as Frost starts his first day of school suspension. (The photo credits Randy Roberts and can be found on the Courier.com main page.) That should be enough to get the senior expelled from school. The principal had said that in the face of suspension Frost would be able to take his exams and get his diploma, although he wouldn't be able to participate in graduation.

Frost told a local television station that he didn't regret attending the prom, which Findlay High School Principal Craig Kupferberg said went off without a hitch as 669 students and 99 guests danced the night away. But Frost did say that he regrets that his classmates may now be unfairly judged for their beliefs or for attending Heritage Christian.
While I understand that the school has rules and that students agree to them, I'm still shaking my head in dismay. Those kind of restrictive rules don't do much to help teach a student – especially one who's going to be headed off to college in the fall – how to transition their beliefs to the real world. Rather than suspend him, it would have been a great opportunity for the principal to help prepare Frost to make decisions in a real world situation.
And I have to question what the principal meant when he said that Frost was deciding between pleasing himself or God. Did he mean violating the code of conduct he'd agree do would displease God, because God expects us to keep our word? Or did he mean that attending a public school prom itself would be displeasing to God? I suspect he meant the latter, which would be ridiculous. If he meant the first, then I could maybe – MAYBE – see his case that keeping your word in the face of distractions would be pleasing to God. But there's nothing inherently wrong with attending the prom. Or dancing or listening to music.
In an event, I wonder what you think. Is the school right in suspending Frost? Or should he have abided by the school's rules and not attended the prom?
Click here to subscribe to Gospel Soundcheck by email
and have the Gospel Soundcheck headlines delivered daily to your email inbox. And don't forget to
follow me on Twitter!