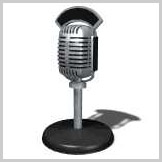 The Gospel Music Association (GMA) announced the finalists for the 2009 GMA/Christian Music Broadcasters (CMB) Radio Station of the Year.
The radio station awards are designed to publicly acknowledge those Christian radio stations that meet the highest standards of quality and have the strongest impact on their listening areas. Awards are given to major, large, medium and small market stations. The winners in each market category are determined by a panel of judges who review the following areas – community involvement, ratings, air-check and industry leadership:

Major Market
KCMS – Seattle/Tacoma, Wash. – Stan Mak, Station Manager
KTIS – Minneapolis/St. Paul, Minn. – David Fitts, Station Manager
WPOZ – Orlando, Fla. – Dean O'Neal, Station Manager
Large Market*
WDJC – Birmingham, Ala. – Laura Scotti, Station Manager
WMHK – Columbia, S.C. – John Owens, Station Manager
Medium Market*
KKCM – Tulsa, Okla. – Dan Lawrie, Station Manager
WRCM – Charlotte/Gastonia/Rock Hill, N.C./S.C. – Joe Paulo, Station Manager
Small Market
KGCB – Flagstaff/Prescott, Ariz. – Stephen R. White, Station Manager
WCVK – Bowling Green, Ky. – Mike Wilson, Station Manager
WLAB – Fort Wayne, Ind. – Melissa Montana, Station Manager
* Due to the number of qualified entries, the Large Market and Medium Market categories only have two finalists.
GMA will notify the winners before the 40th Annual GMA Dove Awards on April 23, 2009 and the winners will be acknowledged during the GMA Dove Awards' broadcast.

The 2008 winners were KLRC – Fayetteville, Ark. for Small Market; KTSY – Boise, Id. for Medium Market; WPOZ – Orlando, Fla. for Large Market and KSBJ – Houston for Major Market.
RELATED POSTS
Radio and Record's Most Played Christian Songs of 2008
Contemporary Christian radio second most popular music format in US
Are you an average Christian radio listener?
Get the Gospel Soundcheck headlines delivered daily to your email inbox. Just sign up for the RSS feed by going to the "Subscribe" box on the right hand side of this blog and entering your email address. And follow me on Twitter!