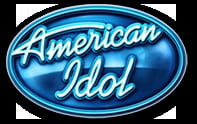 I did an interview last week with Gil Kaufman from MTV about the number of Christian contestants on this season of American Idol. Later that same day, I talked to a reporter named Derrick from the Associated Press about the same topic.

I've been covering the Christian contestants on Idol ever since the show first mentioned Danny Gokey's story about his wife's death; they said he was a church music teacher, and knowing that would immediately connect with Christian viewers, I set out to find out a little more about him.
Week after week I noticed more and more Christians getting through to the next rounds, until we were at the Top13, with 6 contestants with ties to Christian music.
Regardless of where you stand on the issue of Christianity, you have to admit that that's a lot of Christians on one season. We've had Christians of various denominations before on the show – from Jordin Sparks to David Archuleta – but as far as I can tell never so many in one season.
So I thought I'd look at some reasons why there are so many Christians on season 8 of American Idol:

1) Churches have long been a training ground for singers. My friend Tricia Whitehead mentioned this out to me, and she has a great point. From Whitney Houston to Evanescence to American Idols, many singers, with and without any current claim to Christianity, started singing in church. For some, it was the gospel choir. For others, it was a praise band in youth group. That doesn't mean that they went on to become preachers or Christian artists. But that experience as youths offers them a chance to sing in front of a crowd, to get some direction on how to sing properly, and build confidence. While some kids are playing in a garage band with just the family dog for an audience, others are on church stages with professional sound and lighting systems. You can't discount that kind of experience.
2) Christians are loosening up. There was a time when a worship leader peforming on a show like American Idol would have caused Christians to label him a sell out or to question his faith. But with the culture of celebrity becoming more common within the Christian community (yes, we have Christian celebrities, whether we admit it or not), the idea of a Christian making it big in the mainstream isn't so distasteful any more. For some, they see it as an opportunity for a talented artist to be on equal footing with other artists. For others they consider is a mission field where they can be a Christian example to the world. Either way, churches are supporting their worship leaders on the show, and Christians are glad to see them, too.
3) The biggest reason that you're seeing more Christians on American Idol is because there's money in it for the show. Most viewers don't take time to think about the dollars and cents of television, but the reality is that a show needs to make money to stay on the air. And I have a hunch that the producers of American Idol have noticed that Christians spend their money where their faith is. I don't think that's always a good thing, but let's face it, it's the truth.
Most of the world has no idea that there is a separate Christian music industry, for example, where artists are reaching gold and platinum status just like mainstream artists. Christians have their own TV stations and radio stations and book publishers and bookstores, and alternatives to just about every consumer product you can think of. It's a bit like living in an alternate reality. (OK, it's a lot like living in an alternate reality and not always a good one, but I digress …) There's a reason stores like Walmart and Target now carry an extensive line of Christian music, and why stores like Barnes and Noble prominently feature Christian authors: it's good business. If producers of shows like American Idol know that Christians will tune in, then they'll play to that audience.
See, TV is all about money. And it's become apparent over the last few years that the Christian marketplace is thriving; while Christian album sales declined last year, for example, they declined less than the overall music industry. And they started declining later; when album sales started falling in mainstream, Christian sales were still climbing. And let's not forget that over the last 10 years, the number of contemporary Christian music radio stations have doubled, making it the second most popular radio format in the US, behind Country. Ka-ching!
4) And the last reason: The Christians on this season are really good! You can't deny that Danny Gokey and Lil Rounds both have great voices, or that Kris Allen and Matt Giraud are talented artists. In the end, it is a singing competition, and whatever their faith, they deserve to be there as much as Adam Lambert (who, in my opinion, has a fantastic voice but is much better suited to front a rock band than be a pop singer) or Allison Iraheta (who is amazing).
My advice? If you're voting for an American Idol contestant because of their faith, you should probably not vote at all.
Get the Gospel Soundcheck headlines delivered daily to your email inbox. Just sign up for the RSS feed by going to the "Subscribe" box on the right hand side of this blog and entering your email address. And follow me on Twitter!
MORE AMERICAN IDOL POSTS
Tension At The American Idol Judges' Table: Is The Honeymoon Over?

American Idol: Is This The Season of the Worship Leader?
American Idol's Jamar Rogers and Frankie Jordan – BIG BIG NEWS!
American Idol Contestants With Ties to Christian Music – Round 2 & Updates
American Idol Season 8 Contestants With Ties to Christian Music
American Idol's Felicia Barton a Worship Leader at Freedom Fellowship in VA
Breaking American Idol News: Joanna Pacitti Ineligible; Replaced By Felicia Barton
American Idol Contestant Ryan Johnson Performs Tonight with Christian Band Instereo
Is Jesus at American Idol's Hollywood Week?
American Idol Judge Kara DioGuardi Gives Contestant Some Solid Advice
American Idol Contestant Kristen McNamara & L.A.U.G.H.
More on American Idol contestant Danny Gokey and wife Sophia