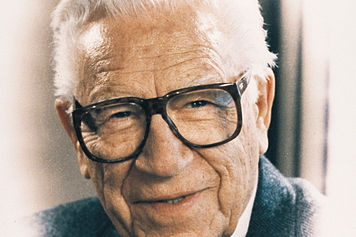 George Beverly Shea, best known for his 50 years with the Billy Graham Evangelistic Crusades, turned 100 this weekend.
The award-winning baritone turned 100 Sunday, February 1, and will be the guest of honor today at a private gathering of family and friends at the Billy Graham Training Center at The Cove in Asheville, North Carolina.

Shea was born in Winchester, Ontario in 1909, and grew up singing in the choir of his father's Wesleyan church. He moved to New York City and eventually ended up at Moody Bible Institute in Chicago, where he was a radio broadcaster. That's where he met Billy Graham, and the rest is history.
Shea was inducted into the National Religious Broadcasting Hall of Fame in 1996 and the Gospel Music Association's Gospel Music Hall of Fame in 1978. He recorded more than 70 gospel albums and was nominated for 10 Grammys, winning one in 1965.
The Associated Press reports
that despite his years, Shea is in good spirits and health, occasionally singing at senior events and other events connected with Graham's ministry.