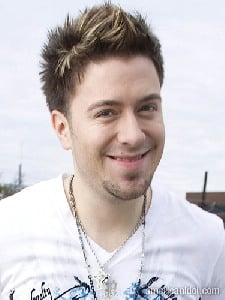 Tuesday night, American Idol kicks off the first of four weeks of elimination rounds to narrow the field to the top 12 contestants, and I want to know who you think will make it to the top 12.
The 12 competing on Tuesday will be:
The Girls:
Casey Carlson
Tatiana Del Toro
Jackie Tohn
Anne Marie Boscovich
Alexis Grace
Stevie Wright
The Guys:
Brent Keith
Matt Breitzke
Danny Gokey (pictured)
Ricky Braddy
Anoop Desai
Stephen Fowler
(Quick note – at the end of the judge's mansion show Wednesday, Michael Sarver was listed as competing Tuesday, but they've since changed that to Matt Breitzke. Any thoughts on why? Hmm …)
It works like this: they perform on Tuesday and then the viewers vote. On Wednesday, the top guy and the top girl, along with whatever contestant got the second highest number of votes, make the final 12. There are two more rounds just like that, and then a Wild Card round where the judges pick three of their favorites. (I wonder how that works this year, with four judges? Used to be Paula, Randy and Simon each got to pick one contestant.)
So if you had to vote today, which guy and which girl would you send through?
It's a tough one, because they put some great singers in this round. But I'm not going to lie. I'm definitely rooting for Danny Gokey. The guy can sing and he has such a positive spirit. Love him.
My predictions:
Guy: Danny Gokey
Girl: Alexis Grace (although the girls are such strong contenders that it's going to be tough)
2nd highest: Anoop Desai (Please, please PLEASE don't let it be Tatiana!!)
RELATED POSTS
Breaking American Idol News: Joanna Pacitti Ineligible; Replaced By Felicia Barton
Idol Shocker: Jamar Rogers Sent Home, Tatiana Del Toro Stays
American Idol: My Predictions For Some Of The Final 36
American Idol Season 8 Contestants With Ties to Christian Music
American Idol Contestant Kristen McNamara & L.A.U.G.H.
American Idol Contestant Ryan Johnson Performs Tonight with Christian Band Instereo
Is Jesus at American Idol's Hollywood Week?
American Idol Judge Kara DioGuardi Gives Contestant Some Solid Advice
More on American Idol contestant Danny Gokey and wife Sophia
What's up with American Idol's new judge Kara DioGuardi and why is the show milking contestants' tragedies?
More American Idol Posts
And if you want more
American Idol show recap, visit my Idol blog at NewChristianVoices.com
.
Get the Gospel Soundcheck headlines delivered daily to your email inbox. Just sign up for the RSS feed by going to the "Subscribe" box on the right hand side of this blog and entering your email address.