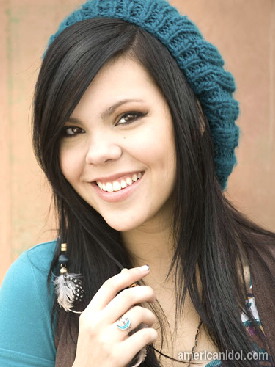 The next round of American Idol contestants was announced last night, and for no other reason that I really don't want to write my humor column I've spent the morning searching for any ties these contestants have to Christian music.
Does it matter that these contestants are Christians? Not really, but I do find it interesting that the number of contestants with ties to Christian music is increasing. What motivates a Christian to participate in a reality show like this? Is it purely musical? Is it evangelistic? Does it even matter?
Here's what I've found so far:

Mishovanna Henson – Mishavonna (pictured) attends South Coast Christian Assembly in San Juan Capistrano, California. In 2008, she took First Place in the Female Vocal Solo Category at the 2008 Assemblies of God Fine Arts Festival.
Kai Kalama – the bio for the band OffWhite, in which Kai performed with his brother Ryan, says, "Mom taught them to sing via the church choir." A lot of artists get their start that way. No word yet on what church they attended as kids.
Kris Allen – has been working with the worship ministry at New Life Church in Conway and Little Rock campuses since 2007. He is also involved with Chi Alpha Campus Ministries at the University of Central Arkansas.
Matt Giraud – played drums at his church; has released two indie Christian music CDs, Perspective and Mind, Body and Soul.

Jesse Langseth
– her brother is Grammy-winning blues artist Johnny Lang. That means nothing from a spiritual aspect, but it is interesting to note that her sister is also a musician, so there's a whole lot of talent in that family.
Coming up next week:Felicia Barton
– leads worship at Freedom Fellowship in Virginia Beach, VA
Lil Rounds
– I've heard she sings at the Christ Community Church in Memphis, but I haven't gotten that confirmed yet.
Kristen McNamara
– she's a professing Christian
Scott MacIntyre
– attends
Scottsdale Bible Church
, where he regularly performs; has appeared on the Crystal Cathedral Hour of Power; performs with the Gospel quarter,
The MacIntyre Family Singers
And already in the Top 12:
Danny Gokey
– music teacher at Faithbuilders International at Milwaukee
Michael Sarver
– leads a worship and praise team at Harvest Church in Jasper, TX and was once a lead singer at Victory Christian Center in Houston
And last but not least, this has absolutely nothing to do with Christian music, but Kendall Beard's dad is apparently an old college buddy of Jamie Spears, father of Britney and Jamie Lynn. Is that a good thing or a bad thing?
Get the Gospel Soundcheck headlines delivered daily to your email inbox. Just sign up for the RSS feed by going to the "Subscribe" box on the right hand side of this blog and entering your email address.
MORE AMERICAN IDOL POSTS
American Idol Round One: Blogging LIVE
American Idol's Felicia Barton a Worship Leader at Freedom Fellowship in VA
American Idol Round One: Tell Me Your Predictions
Breaking American Idol News: Joanna Pacitti Ineligible; Replaced By Felicia Barton
Idol Shocker: Jamar Rogers Sent Home, Tatiana Del Toro Stays
American Idol: My Predictions For Some Of The Final 36
American Idol Contestant Kristen McNamara & L.A.U.G.H.
Is Jesus at American Idol's Hollywood Week?
American Idol Judge Kara DioGuardi Gives Contestant Some Solid Advice
More on American Idol contestant Danny Gokey and wife Sophia
More American Idol Posts
And if you want more
American Idol show recap, visit my Idol blog at NewChristianVoices.com
.