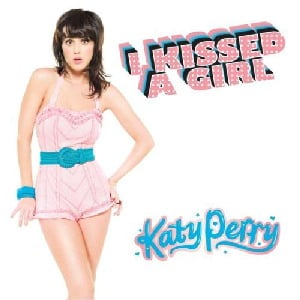 I had a chance last week to take part in a teleconference with hot pop artist Katy Perry. Perry is preparing for her world tour and appearance on the Grammys in February.
Katy Perry is a hot topic on the Gospel Soundcheck blog because in 2001 she released a Christian album under her real name, Katy Hudson. The chatter has raged over that bit of news. Later that summer, her parents allegedly gave an interview to the UK Daily Record in which they were quoted as saying they were ashamed of their daughter. The only problem is that her mom has said that she was misquoted in the publication.

And the latest? She told
OK Magazine
that she's taken a pledge of celibacy for the next year, including no kissing.
So what's the truth? Where does Katy Perry stand, from a faith perspective? What do her parents really think about her music? And is she really advocating homosexuality with her song, "I Kissed A Girl"?

The teleconference included about 50 journalists from a variety of publications, and while we all didn't get to ask a question, Katy, with trademark humor and an unexpected frankness, did clear up some questions readers have had about her.
What is Katy Perry's spiritual background and upbringing?
When she was asked what brand of Christianity she was raised and whether she believes the Bible says same sex love is immoral, Katy had this to say:
"My dad's from Memphis and he's got a bit of the Pentecostal flair. And he's hilarious. I was raised non-denominational Christian, so it's little bit more evangelical, I guess would say. Yeah, it was like a lot of that stuff you see on television. And I was raised with certain ideas, like you mentioned about what the Bible does say. But I definitely am now, as an adult, and in a whole new world, in a world I didn't even know existed, I definitely have different perspectives and am very much not a poster child for anything perfect or organized or cookie cutter. I have had my own relationship and my own beliefs and I'm continually on an upward search with all of that, and I really don't know the answers nor do I like to impress them on anybody else."
What do Katy Perry's parents really think about her music?
Katy talked about growing up in a Christian home, the daughter of two Christian pastors. The media has used the term "conservative" pastors, which for many evokes images of stern, uptight fundamentalists wielding the Bible with an iron hand. That image was reinforced last August in a story in the UK Daily Record that reported Katy Perry's parents were "deeply ashamed" of their daughter.
But I got a note from Katy's mom saying that she was misquoted in the paper, and while I've never been able to connect with her again to get more of the story, I think Katy cleared that up when a reporter from a gay newspaper asked about her parents' reaction to her music:
"My family is definitely very supportive. I have, I guess, pushed their envelope from the day I was born. I was always the kid at the dinner table who, if there was a line you shouldn't cross, I took a big leap over it. That's always been me. There's never really been, like, an edit button on my keyboard of life. I guess my parents weren't ever so shocked when I was singing very frank or honest, to me honest, songs.

"They're a different breed of Christians … It's modern, it's not like … you know, sometimes people envision my parents wearing the priest outfit, and I'm like, No, actually, my dad has four tattoos. I mean, they all happen to say Jesus, but he's kind of like a modern rock-and-roll pastor himself. I mean, I think we definitely agree to disagree on some things but I don't think that's unusual with a kid and their parents' relationship. They're very, very supportive and they're always telling me they're praying for me and I appreciate it."
Listening to Katy, she sounds like any other young adult who has left the path their parents laid out for their children. While they may not agree they still love and support each other. Who among us can't say the same thing? I think that puts to rest any gossip about her parents being ashamed of her.
Did Katy Perry really write "I Kissed A Girl" to promote homosexuality?
Katy Perry says that when she moved out on her own, she started to meet people she'd been warned to avoid growing up.
"I was raised to say, 'These people aren't good, you can't be friends with them'. It doesn't matter whether they were gay or straight, just certain people in general. And I started to meet great inspiring people that became my best friends."
She's clearly not putting herself out there as a poster child for any kind of lifestyle. She says "I Kissed A Girl" is really about her own curiosity over a schoolgirl crush and something she explored in the song in a tongue-in-cheek way. (In fact, there isn't much that Katy Perry doesn't do tongue-in-cheek. She's a self-proclaimed prankster and takes very little, including herself, too seriously.)
She did thank her gay fans, and added that she is a gay activist, voting no on California's Prop 8. But like most of the other things she talked about, she didn't sound at all like she was encouraging – or discouraging – homosexuality. What she sounds like is a young woman who is exploring the world without trying to force her own journey on anyone else.
TV Guide and other publications have reported that Katy Perry was taking a vow of celibacy for a year, quoting: "I've actually taken a vow of celibacy this year…no kissing anyone, just my cat, Kitty Purry."
The real story?
"By the way, that was a joke, and any fine journalist would have got that joke … I'm not going to be celibate. I mean, I guess I'm just going to be looking for the right one, but please. Celibacy for a whole year, I'd rather die."
In the end? Katy Perry is just like thousands of other Christian teens, who grow up under the strict eye of the church and then go on to explore the world on their own. Sometimes they come back to that faith of their youth and sometimes they walk totally away. But more often, after their own personal searching, they come to a place where they reconcile what they've been taught about God and what they've experienced about him on their own. It's not fair to hold Katy Perry up now as a fallen Christian, any more than it would have been fair, when she was 16, to hold her up as a Christian role model. She's just a girl who happens to have be the media's flavor du jour.
But you can keep praying for her. If I had to take a guess, I think she'd appreciate it.
RELATED POST
Katy Perry, Christian recording artist?
Visit Beliefnet's Christian music blog, Gospel Soundcheck, daily for the latest news on your favorite Christian music artists as well as mainstream artists with ties to Christian music.