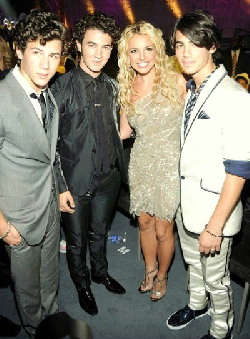 I stumbled across this piece of news this morning at monstersandcritics.com:
Apparently the Jonas Brothers got to meet their "idol" Britney Spears at the MTV video music awards on Sunday, and a "backstage source" reports:
"They all looked so excited to see Britney and meet her, and she was thrilled too. She seemed to be reminiscing about her own start in the music industry – she began as a Christian singer, just as the Jonas Brothers are doing."
Wait. Britney Spears started as a Christian singer? Fill me in, Britney fans.
Poor Britney. That poor girl was chewed up and spit out by the music industry, and everyone who gawked at her like a train wreck and poured good money down the toilet to keep the tabloid rags seeking more sensational pics helped the process along. My heart breaks for her.
Hey Jonas Brothers – it's a good thing that you got to meet Britney. Make sure you tell her God loves her, has a wonderful plan for her life, and that there are a lot of us praying for her.