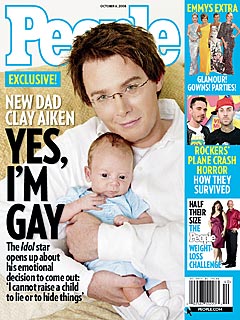 I know this will come as a shock to many of you, so sit down in case you faint, but Clay Aiken has come out of the closet and confirmed that he is, indeed, gay.
Um. Didn't we pretty much already know that?
Aiken comes out in a cover story in the issue of People magazine that hits newstands Friday, and he says he expects the news to overwhelm his fans.

I'm pretty sure his fans already guessed he was gay, even though he fathered a child, via in vitro fertilization, with his best friend, music producer Jaymes Foster (sister of music mogul David Foster). Aiken is committed to taking on the responsibilities of fatherhood, and photos of him with his son, Parker, accompany the People story.
Neither the AP report or the short
preview at People.com
say if Aiken is involved in a relationship.
While Aiken has never been involved in the Christian music industry, he is a professed born-again Christian, so if his fans have questions it'll probably be about how he reconciles his faith and his lifestyle. Kind of like
CCM veteran Ray Boltz
, who also recently came out of the closet.
Are you surprised that Aiken is gay? Do you care? Does Aiken being a born-again Christian but not having any ties to the Christian music industry affect Christian music at all?
RELATED POST
NEW: Christian artist Brian Bates shares his thoughts on how to respond to Ray Boltz, Chris Aiken coming out of the closet
Ray Boltz comes out of the closet